Our hands-free homing initiative during the coronavirus lockdown meant gorgeous FIV cat Jet could still be adopted.
When the COVID-19 lockdown began in March 2020, Cats Protection sadly had to put adoptions on hold to keep our teams, the public and the cats safe.
This meant that moggies like Jet, a five-year-old stray at our Bredhurst Adoption Centre, had to stay in our care for a little longer than usual.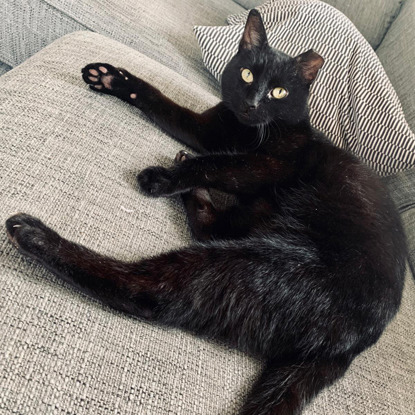 Aside from his wonky ear and FIV, Jet is a healthy cat
While the team at the centre were still #HereForTheCats, giving them lots of love and care as well as food and play, they were eager to start finding the cats loving new homes again.
Then, in May, Cats Protection was finally able to start 'hands-free homing' in some of its centres, including Bredhurst, and Jet was one of the first to find his purrfect match.
Caroline and Mike had previously applied to adopt a cat from the Bredhurst Centre just before lockdown, but had to wait patiently for rehoming to start again. When they heard about hands-free homing, they emailed the centre to say they were interested and were soon sent some photos of the lovely Jet.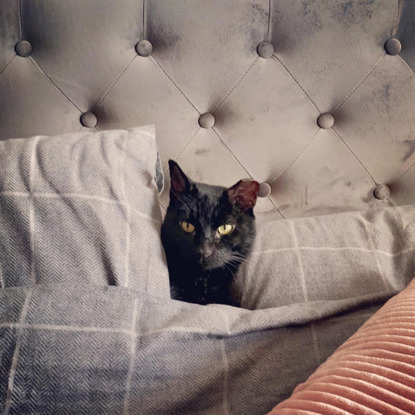 Jet will need to be kept indoors because of his FIV
When Jet had first arrived at the centre after being found living as a stray, he was given a full health check by a vet and found to have Feline Immunodeficiency Virus (FIV). This is a virus in cats that is similar to Human Immunodeficiency Virus (HIV), but FIV does not infect humans and HIV does not infect cats.
While there is no treatment for FIV, cats with the virus can still live long and healthy lives. However, they should be kept indoors to prevent them from passing the virus on to other cats, and also to reduce the risk of them picking up any infections outdoors, as their immune system is compromised. As Caroline and Mike live in an apartment with no outdoor space, the centre team thought that Jet would be the ideal cat for them.
"When we were told about Jet and the new hands-free homing process we jumped at the chance to adopt him," said Caroline. "We already knew a fair amount about cats with FIV as we'd done some previous research so this was not an issue for us, and Cats Protection even helped advise us on pet insurance for a cat who is FIV positive. The whole process of the adoption from Cats Protection was professional but also extremely friendly."
After filling in all the paperwork and paying the adoption fee, Caroline and Mike were given a date for when Jet would be dropped off at their home by someone from the centre.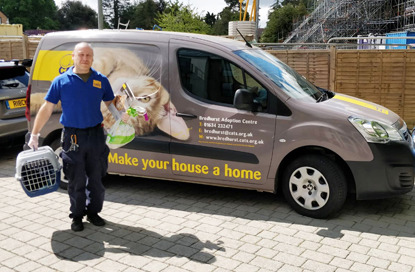 Cats Protection delivered Jet to his new home
"I do a lot of online shopping, but never have I ever had a cat delivered!" said Caroline. "The whole delivery was contactless from the driver and Jet was dropped at our door.
"We then took him inside where he settled in immediately – at first in the spare bedroom where all his toys, food and water etc. were, and then slowly but surely he ventured out into the rest of the flat.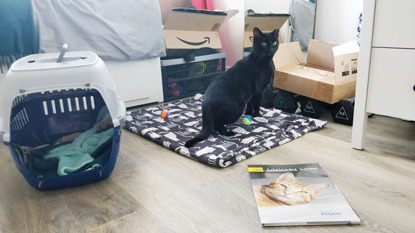 Jet's new owners were given all the advice they needed to help him settle in
To make sure Jet was settling in well and check if his new owners had any questions about his care, the Bredhurst Centre team gave Caroline and Mike a call three days after he was dropped off, and then another call a couple of weeks after that.
"Three weeks on and he has become such a character in our household. It's hard to remember a time without him. He even joined us on the sofa the other evening on a Zoom call with friends for my boyfriend's birthday!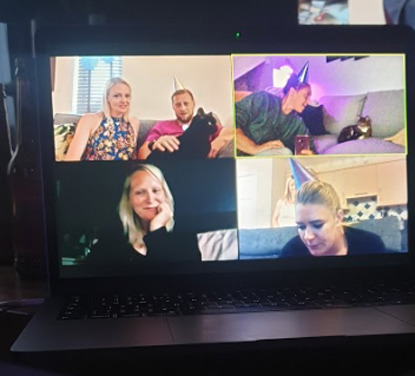 Jet gate-crashing a Zoom call for his new owner's birthday
"We are so grateful to Cats Protection for bringing Jet into our lives. We've definitely fallen head over heels for him! So it's a big thank you from us and from Jet who has now found his forever home. Cats make a house a home!"
Mike added: "The process was really simple and easy and the communication was excellent, even out of hours. I'd definitely recommend hands-free rehoming and adopting from Cats Protection!"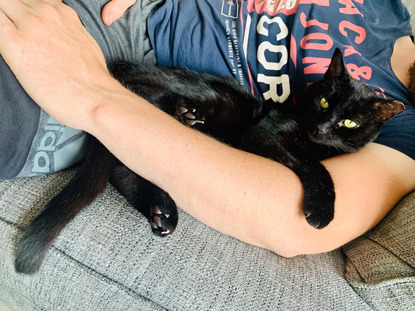 Jet is well and truly settled into his forever home
To find out more about Cats Protection's hands-free homing process and other ways you can support the charity during the COVID-19 crisis, visit www.cats.org.uk/coronavirus