Update: Tiny kitten found inside a wall is settled in her new home.
When mewing could be heard coming from inside a cavity wall at a Belfast bar, the quick-thinking bar supervisor knew just what to do.
Patrick Gormley got on the phone to Cats Protection's Belfast Adoption Centre and they were able to send a member of staff out straight away to investigate.
When they arrived at the Shamrock Sports and Social Club, they soon discovered there was no way to get to the poor kitten and so enlisted the help of the nearby Westland Fire Station.
The firefighters were able to locate the kitten by the sound of its cries and got to work removing a concrete block from the bottom of the wall to gain access.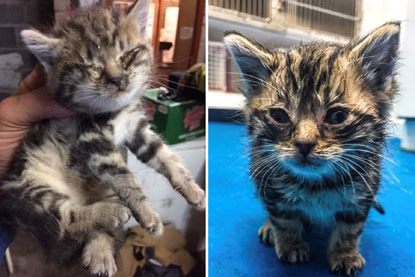 Macavity was in a sorry state when she emerged from the wall
Thankfully the four-week-old kitten – now named Macavity – was rescued just in time, having only sustained minor injuries from her ordeal. If she had been trapped for just a few more hours, she may not have survived.
"The outcome could very easily have been so different if it hadn't been for the compassionate actions of Bar Supervisor, Patrick," said Belfast Adoption Centre Manager Bel Livingstone.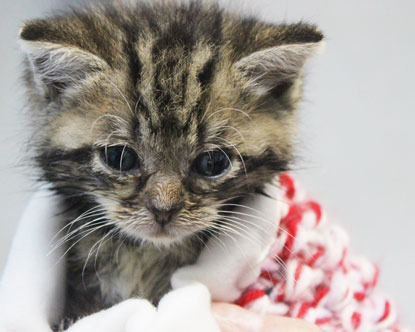 The poor kitten was cleaned up and nursed back to health
"Sadly abandoned kittens like Macavity are an all too familiar sight for us and we would urge owners to get their pet cats neutered as they are such prolific breeders. Just one unneutered cat can produce up to 18 offspring in a year so neutering will help to prevent more unwanted kittens like this in the future."
After emerging from the wall, Macavity was quickly rushed to the vets where she was syringe-fed and nursed back to full health.
That was in June 2017 and now that tiny shivering kitten has grown into a happy, playful and well-loved cat.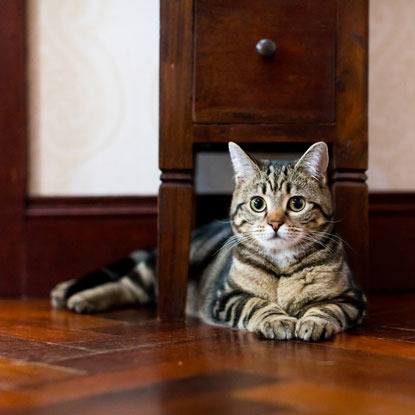 Macavity is now looking much more grown-up
Her new owners Joanne Reid and her son Matthew are smitten with the new addition to their family and are pleased to report that she happily spends her days snoozing and playing with their other cat Paddy.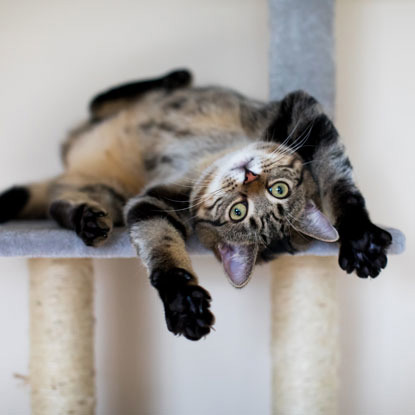 She's a playful character and an expert climber
"Macavity is doing really well," said Joanne. "She has settled really well into our home and family. She loves being outside climbing trees although she does like a 'lie in' in the mornings.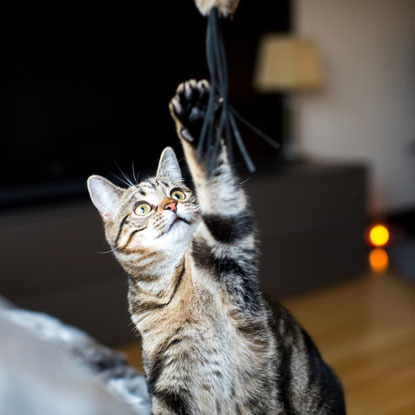 A fishing rod toy provides lots of entertainment
"She came home with Paddy and they enjoy chasing each other around the garden and afterwards enjoy a good grooming session.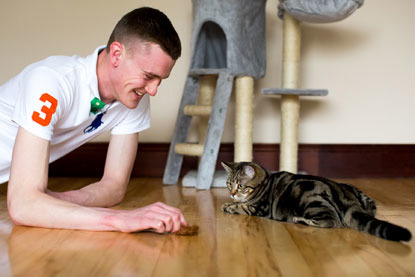 Matthew loves playing with his new feline friend
"She is very affectionate but she is very good at hiding when it comes to bedtime and is definitely not a morning person. Paddy is up with the lark but she always needs 'another 10 minutes'."
For more heart-warming success stories about the cats helped by Cats Protection, take a look at the charity's 2017 Annual Review.