Cats Protection's annual Christmas reception for MPs.
Every year, parliamentarians from all parties speak up for cats on important issues such as air gun licensing and kitten sales. To thank them for their support, Cats Protection invites them to our annual Christmas reception at the House of Commons for festive fun and refreshments.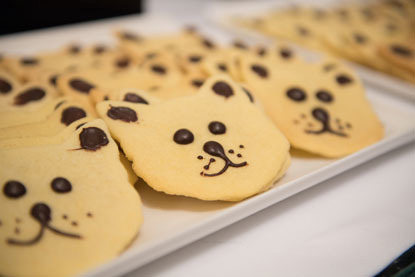 MPs and peers were treated to delicious cat-themed treats at our Christmas reception
This year we were delighted to welcome more than 60 MPs and peers to the event on Tuesday 5 December, which was hosted on our behalf by Kevin Foster MP and supported by Direct Marketing Services (DMS). Representatives from other animal welfare charities and professional organisations we work with were also in attendance.

Guests were given the opportunity to play our 'find the sleeping cat' game to test their knowledge of feline behaviour, and to personalise a bauble for our cat-themed Christmas tree complete with giant cat banner.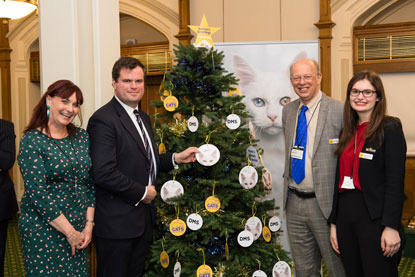 Kevin Foster MP with Cats Protection's Chief Executive Peter Hepburn and members of our Advocacy & Government Relations team
Among those attending were Lord Gardiner, Parliamentary Under Secretary of State for Rural Affairs and Biosecurity, and George Eustice, Minister of State at the Department for Environment, Food and Rural Affairs, who adopted his cat Gus from our Mitcham Homing Centre in 2016.
Jacqui Cuff, Cats Protection's Head of Advocacy & Government Relations, said: "Cats are one of the nation's favourite pets so it was wonderful to welcome so many politicians to our Christmas Reception.
"It has been a busy year, with our major campaign on kitten sales, our 2022 Agenda for Cats launched ahead of the General Election, and our petition calling for licensing of air guns in England and Wales in line with the new licensing regime in Scotland.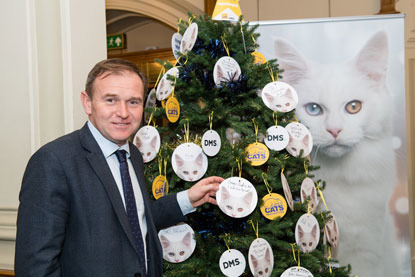 George Eustice MP with our cat-themed Christmas tree
"More than 47,000 supporters joined us in calling for better regulation of commercial kitten sales. We have also received over 75,000 signatures for our air guns petition and are delighted the Government has announced it will be reviewing air gun licensing. Sadly, air guns are frequently used to deliberately inflict harm and suffering on cats.
"All this shows that there are a lot of people who want to see real change to improve how cats are treated in the UK, so it's heartening that so many politicians came along to our reception to support Cats Protection."
To find out more about Cats Protection's advocacy work, please visit our campaigning page.