Bashful Amber, found living on the streets, is looking for a calm home.
Timid but lovable cat Amber is seeking a relaxed new home where he can continue to gain confidence after recovering from a nasty neck wound.
When seven-year-old Amber was taken in by Cats Protection's Ferndown Adoption Centre in June, he had been living on the streets for a while as he didn't get on with his owners' new dog.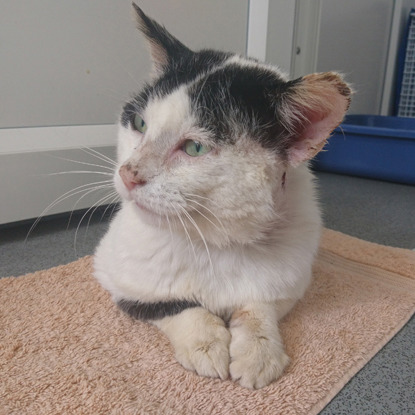 Despite being in lockdown the centre knew that Amber needed their help urgently as he had been fighting with the neighbouring cats and had a large cat bite abscess on his neck that required some TLC to help it heal.
Michele Hopper-Pay, Deputy Manager at Ferndown Homing Centre said "The fighting may have been a result of him not being neutered, or simply because there wasn't enough food to go around.
"He was exceptionally hungry when he first arrived, and very much appreciated the bowl of food we had waiting for him in his pen, which he downed in seconds. He still bolts his food, which we suspect has been learned through fear of losing it to another cat as he wasn't getting regular meals, so we are pacing his meals and he hoovers up every bit but slightly less manically now.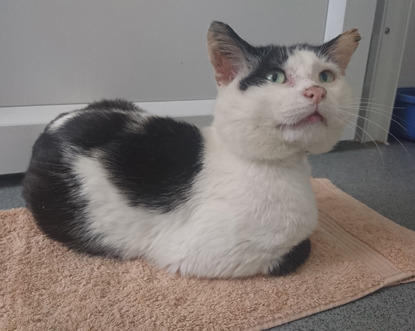 "He is still very wary but is definitely learning to trust us and, with a good amount of time, patience and TLC from the team, he is slowly coming out of his shell a bit more each day.
"He hasn't really shown us his playful side, other than an interest in our shoe laces, but definitely loves a chin rub. He seems like a very sweet boy who's had a tough time of it so we'd love to find him a perfect home where he can continue to gain confidence.
"I'd like to say a big thank you to People Postcode Lottery players, whose support helps us to be there for cats like Amber. They help us cover the costs of looking after cats for however long they stay with us, as well as funding the roles of our two behaviour employees who offer advice and support on all behavioural aspects of cat care to help get cats ready for adoption."
Amber's neck is now healed and he has been signed off by the vet, so the centre is hoping to find him a new home with an experienced cat owner with no other pets, who will allow him to settle in at his own pace.
Cats Protection's Ferndown Homing Centre is operating a hands-free homing scheme as it is currently not able to welcome visitors to the centre. Anyone living in the Ferndown area who is interested in adopting Amber can visit the centre's website at https://www.cats.org.uk/ferndown call them on 03000 120 175 or email ferndown@cats.org.uk
To find cats available for adoption in your area, visit www.cats.org.uk/adopt-a-cat