Big Cat Week: Find out about our international challenge events.
Big Cat Week is now in its third year and is an opportunity for us to showcase our exciting international challenges, specifically our annual Big Cat Challenge which helps us to raise vital funds to help cats and kittens all over the UK.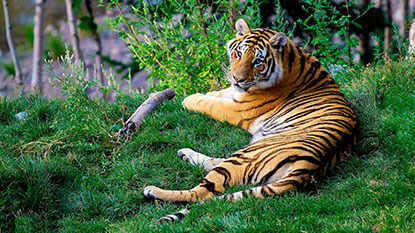 Big Cat Challenge participants can take part in a five-day Himalayan trek and three-day tiger conservation project in India in October 2018.
The adventure starts in India's capital Delhi where the team will board the overnight train for the journey to the Lesser Himalaya. Here, they will explore the spectacular area on foot, reaching altitudes of up to 2,842m and walking around 14km per day.
After the trek, the team will spend three days in the Kanha National Park, inspiration to Rudyard Kipling for his novel, The Jungle Book. This offers an amazing chance to learn about the efforts being made to conserve the environment, especially for tigers. We anticipate that the group will take several drives into the National Park with the hope of spotting tigers and other endemic animals. There is also a possibility of helping with a tiger conservation lesson at a local school and further other opportunities for learning about the plight of the local wildlife.
Fancy embracing your adventurous side? Find out more and sign up for the challenge at https://www.cats.org.uk/support-us/events/challenge-events.
If the trip isn't for you, there are still plenty of ways to get involved with Big Cat Week to celebrate and big and small cats.
You could organise a big cat-themed fundraising event in aid of your local Cats Protection branch or adoption centre; share photos of your small cats that look like big cats or dress up in your favourite tiger onesie and tweet us with the hashtag #bigcatweek
Find out more about Big Cat Week and how you can get involved at https://www.cats.org.uk/support-us/events/challenge-events.