Malcolm Ross will cut the ribbon at 1pm and will also take the opportunity to meet some of the feline residents currently looking for new homes.
He will be accompanied by the charity's Chief Executive, James Yeates, and everyone is invited to come along and join in the celebrations.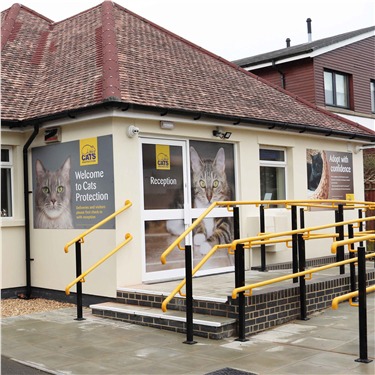 "We are thrilled that Mayor Ross can join us for our big day and we can't wait to share our new and improved centre with our supporters and cat lovers from across the Isle of Wight," explained Mel Read, Manager of the centre.
"There will be behind-the-scene tours of the work that has been undertaken to transform the centre as well as refreshments, a chance to visit our on-site shop and a raffle to win a hamper full of chocolate goodies. All money raised will go towards helping the cats in our care."
Having worked at the centre for 32 years, Mel has seen many changes throughout the years and has been fundamental in creating positive change to cat welfare on the Island.
She said: "I am very proud to have played a role in creating happy lives for unwanted and abandoned cats over the years. We find new homes for around 400 cats every year and it's an honour to work with such a dedicated team of volunteers and staff because without them, we wouldn't be able to achieve what we do.
"Our opening day will be great for all the family and we're looking forward to welcoming everyone."
Cats Protection's Chief Executive, James Yeates, said: "This is the ideal opportunity to celebrate the achievements the centre has made and to thank everyone, including the dedicated volunteers, supporters and staff, for all they've done to further feline welfare on the Isle of Wight."
The open day will run from 12pm until 3pm with the ribbon cutting ceremony taking place at 1pm.
For further information about the day please visit https://www.facebook.com/iowcats/ or call 03000 120251.
For more information about the work of Cats Protection's Isle of Wight Adoption Centre, along with cats needing new homes, please visit: https://www.cats.org.uk/isleofwight
~ Ends ~
For media enquiries please contact media.office@cats.org.uk or call 01825 741 911