A 70-year-old plucky pensioner will be taking to the skies on Friday 23 August to raise money for local cats and kittens in need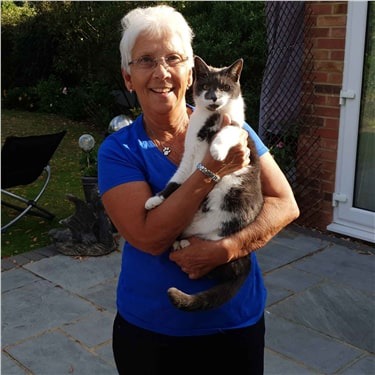 Val Hammond, who volunteers for Cats Protection's Rayleigh & Castle Point Branch, will be falling 12,000ft from a plane in the hope of raising her target of £500 for the charity.
A self-confessed dare devil, Val is nothing but excited to be taking part in the once-in-a-life-time experience.
"I've wanted to do this for some time. I have no fears about the jump as I'm a bit of an adrenalin junkie," said Val.
"It's been one of those things that has been on the cards for some time but kept getting postponed. It was recently raised at one of our meetings and despite everyone in the branch, even the youngsters, saying 'no', I jumped at the chance."
A cat-lover and owner of three rescues, Val has been volunteering for Cats Protection since 2005, helping with local fundraising events to raise much-needed funds for cats.
"I really enjoy my volunteer role and to know I'm helping cats is the best feeling," added Val.
"I have a real soft spot for feral cats as their wildness is similar to mine! I just hope the weather is good on the day and I can raise as much sponsorship as possible for the branch."
Ceri Netts, Branch Development Manager, said: "People choose to take part in fundraising activities for Cats Protection for many reasons – maybe a personal challenge, to do something as part of a team or as an incentive to get fit. However, what unites all of the people who raise money for us is a love of cats, as every penny they raise will help cats in need.
"We're really grateful to Val for taking part in this thrilling challenge and we'll all be cheering her on!"
Val's tandem skydive will take place at Headcorn Airfield, in the heart of Kent, on Friday 23 August 2019.
You can sponsor Val via her Just Giving fundraising page: https://www.justgiving.com/fundraising/rayleigh-cats-protection16
If you would like to take part in the skydive, or any other challenge, and help raise funds for your local Cats Protection branch or adoption centre, you can contact the fundraising events team on 01825 741960/events@cats.org.uk or visit the website https://www.cats.org.uk/support-us/events/challenge-events.
-Ends-
For further information or an interview, please contact Cats Protection's Media Office on 01825 741 911, at media.office@cats.org.uk, or @CPMediaTeam on Twitter.