A cat in the care of Cats Protection's Wrexham Adoption Centre turned out to be one of nature's rarest and most unusual sights – a male tortoiseshell.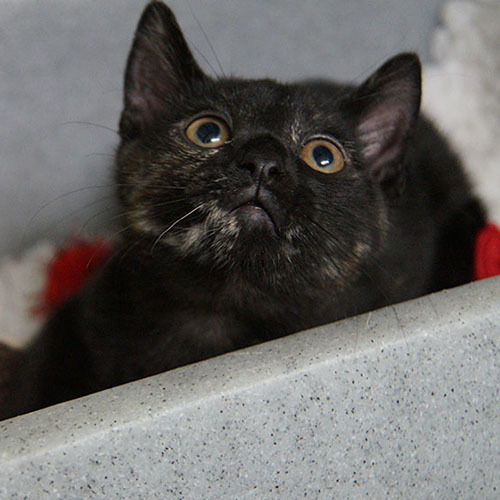 Virtually always female, a 1 in 3,000 genetic quirk means Cresta is one of only a handful of male 'torties' born in the UK each year.
The five-month-old kitten was checked over by the centre's vet team to confirm whether he was indeed male or was a hermaphrodite cat, a feline having both male and female organs.
Cresta was found as a stray in the Colwyn Bay area by the RSPCA, which then asked the Wrexham Adoption Centre to take him in for rehoming.
"We couldn't believe it when we discovered Cresta was a boy," said Adoption Centre Manager Suzan Kennedy.
"Certainly none of us here have ever seen a male tortoiseshell before, and it's been many years since Cats Protection has had one in care, despite us helping 200,000 cats a year.
"It wasn't difficult to find Cresta a home, and his new owners realise how special he is and are looking forward to him becoming part of the family."
An extra chromosome can sometimes result in a male tortoiseshell being born, but it really is very unusual.
Suzan added: "Although it's rare, there shouldn't be any health problems for Cresta. Male tortoiseshells tend to be sterile but he has been neutered to be on the safe side to prevent unwanted kittens being born in the future."
Cresta will be among the last of the cats to be rehomed from its current site in Madeira Hill, as work nears completion on
Cats Protection's new £2.1m Wrexham Adoption Centre in Bradley Road, where staff and volunteers will be able to care for cats in state-of-the-art facilities.
Anyone thinking of visiting the centre in the near future is asked to check the website for the opening date (https://www.cats.org.uk/wrexham).
~ Ends ~
For media enquiries please contact media.office@cats.org.uk or call 01825 741 912.