A Milton Keynes charity shop was forced to close for five days because the shop was flooded with water.
The leak is believed to have come from an apartment above the Cats Protection shop in Islay Court, Jersey Drive, Bletchley.
Water soaked through ceiling tiles and damaged donated clothing and the shop's flooring.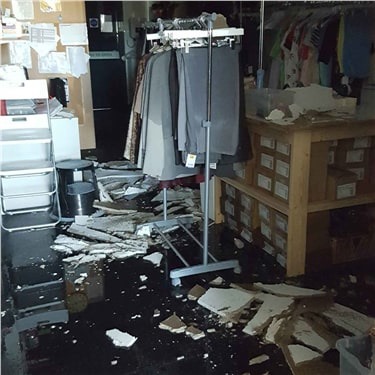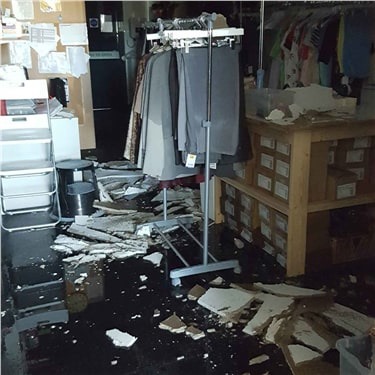 As a result of the flood, the shop team is appealing for extra support from Milton Keynes cat lovers.
Assistant shop manager Anna Pichowski said: "The flood made a huge mess and we were shocked to discover it – there were big puddles of water.
"It was mostly donated women's clothing that was damaged and water has soaked into the concrete floor of the shop, so sadly we will have to close again at some point so that can be sorted out.
"We only opened in May last year, so this has been a terrible setback for us and, most of importantly, the cats we're raising money to help.
"So if the people of Milton Keynes are spring cleaning and have unwanted items to donate, we'd love it if they could think of the Cats Protection shop.
"People are also very welcome to come and browse and perhaps find a bargain – we have a good selection of clothes for the spring and summer season, plus gifts, children's toys and books. They're all at fantastic prices!"
Following the flood on Monday 4 March, the Milton Keynes team has set up a JustGiving page to raise extra funds for Cats Protection's work to help and rehome cats, including Cats Protection's Milton Keynes Branch. You can donate here: www.justgiving.com/fundraising/milton-keynes-cats-protection-charity-shop
They are also appealing for anyone who has a few hours to spare to volunteer in the shop.
No previous shop experience is required and full training will be given. Just a few hours can make a huge difference to the lives of cats in our care.
If you would like more information about volunteering at the Cats Protection shop or have something you'd like to donate, you can visit the shop, call 01908 372688 or email miltonkeynes.shopmanager@cats.org.uk
-Ends-
For further information or an interview, please contact Cats Protection's Media Office on 01825 741 911, at media.office@cats.org.uk, or @CPMediaTeam on Twitter.