A 14-year-old cat who has been in care for over three months is looking for a new owner with a sweet tooth.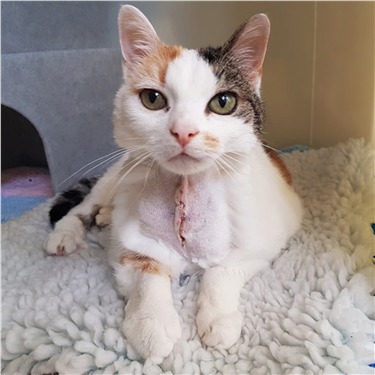 Jellybean, a tortoiseshell-and-white cat, is currently being cared for by Cats Protection's Isle of Wight Adoption Centre after her previous owners were moving house and were unable to take her with them.
Staff at the charity have described Jellybean as being a cat with plenty of character who just needs a second chance at finding the right home.
Having recently undergone a big operation to remove her thyroid gland, Jellybean is now readyand desperate to meet potential adopters.
"Jellybean previously suffered from hyperthyroidism but she's now enjoying life without having to take daily medication. Since her operation in mid-June, she's bounced back in no time at all," said Mel Read, Centre Manager.
"At 14 years young, Jellybean is, well, full of beans! She loves nothing more than playing with her favourite toys and will always make you smile with her crazy five minutes of 'kitten play'.
"She has a cheeky personality; whether she's stealing your favourite chair or finding new things to play with in a garden, we're sure Jellybean will brighten up your home."
Jellybean needs a home with some safe outdoor space to explore and needs to be the only cat needing love and attention.
Anyone who would like to meet Jellybean can visit the centre Monday to Sunday, 11am to 4pm, apart from Tuesdays when the centre is closed. Alternatively, call the Isle of Wight Centre on 03000 120 251 or email Isleofwight@cats.org.uk
The centre, on Marlborough Road, is holding a tea party on Saturday 20 July where everyone is invited to enjoy some cake, sandwiches and unlimited drinks for £6 per person. Anyone wishing to book a slot should contact the centre to guarantee their space.
More information about Cats Protection's Isle of Wight Adoption Centre and other cats like Jellybean looking for homes can be found here: www.cats.org.uk/isleofwight

This year Cats Protection's cat care assistants - who are helping to look after cats like Jellybean at Cats Protection's Isle of Wight Adoption Centre - are being supported thanks to players of People's Postcode Lottery, who have raised just over £1million for the charity to-date.
~ends~
For further information or an interview, please contact Cats Protection's Media Office on 01825 741 911, at media.office@cats.org.uk, or @CPMediaTeam on Twitter.