Two volunteers are celebrating a combined total of over 45 years volunteering for Cats Protection's Isle of Wight Adoption Centre.
Cat lovers Rosemary Stephenson and Lynne Young were presented with commemorative cat statues to celebrate dedication to the charity at an afternoon tea held at the centre on Marlborough Road.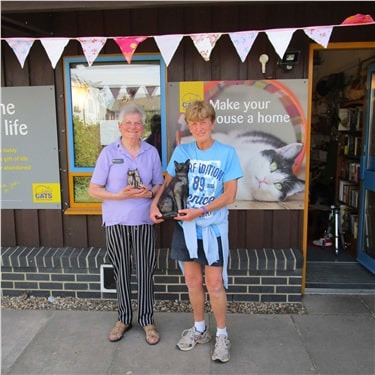 Lynne received an exclusive Murphy Award for dedicating over 30 years to helping local cats and kittens and Rosemary received a bronze duo of kittens, celebrating 15 years of volunteering.
"A Murphy Award is a life-size cat statue presented to volunteers who have dedicated over 25 years to Cats Protection or who have made an exceptional contribution to the charity," said Mel Read, the centre's manager.
"I have been astounded by the contribution Rosemary and Lynne have given to Isle of Wight Adoption Centre. Without them, the help that thousands of cats across the area have received would not have been possible. We hope the statues serve as a permanent reminder of our gratitude."
Lynne said: "I most enjoy spending time with the cats and getting to know their unique personalities. Being able to help so many felines over the years has been so rewarding. I've made life-long friends and would urge anyone who loves animals and wants to do some good, to come and see us."
The afternoon was arranged with help from Volunteer Team Leader Emma Duffield, whose role unites volunteers across the area, and is being supported this year by players of People's Postcode Lottery. Anyone interested in volunteering should contact Emma directly on IsleofWight.VTL@cats.org.uk or by calling the centre on 03000 120 251.
More information about Cats Protection's Isle of Wight Adoption Centre and cats looking for homes can be found on the centre's website: https://www.cats.org.uk/isleofwight
~ Ends ~
For media enquiries please contact the media office on 01825 741 911 or email media.office@cats.org.uk