Tabby-and-white cat Lordi is the last of three siblings still to be adopted from Cats Protection's Honiton Branch and volunteers are desperate to find him a new home.
He's less than a year old and is very playful and energetic, so would be best suited to an adult home or a family with older children.
"We're appealing for the cat lovers of Honiton to consider offering our lonely Lordi a home," said Bob Carter, co-ordinator of Cats Protection's Honiton Branch.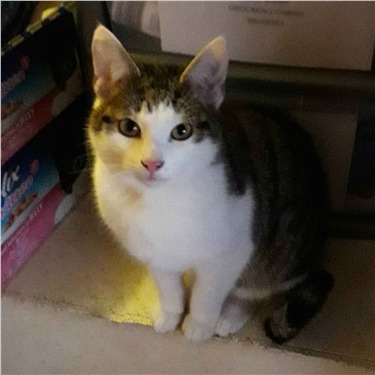 "His brother Chisa and sister Hena have already been adopted and it'd be great to also see Lordi with new owners – he'd make a great companion as he really loves attention and purrs away happily."
Cats Protection's Honiton Branch is also appealing for volunteers to help them raise money and help even more cats and kittens.
Bob said: "The branch does a huge amount of work to help local cats but we really need someone to help raise money to allow us to carry on our work.
"The role is a varied one and includes organising raffles, helping to organise fetes and fairs and getting support from local businesses.
"You don't need to be a fundraising expert as Cats Protection can provide assistance and support materials, but we do need someone who cares about cats and has bags of enthusiasm.
"The role is a voluntary one and by sparing just a couple of hours a week it can make a huge difference to cats in need.
"It's incredibly rewarding and also a great way to make new friends – both human and feline!"
If you're interested in adopting Lordi (or another rescue cat) or becoming a volunteer, you can contact the branch by calling 01404 45241.
~ Ends ~
For further information or an interview, please contact Cats Protection's Media Office on 01825 741 911, at media.office@cats.org.uk, or @CPMediaTeam on Twitter.