A fearless cat lover takes to the skies to raise vital funds for unwanted cats at her local Cats Protection branch.
A brave Cats Protection supporter will be walking on air this summer to raise funds for her local branch.
Dawnie Cassidy has arranged to be strapped to the top of a Stearman biplane while flying at a speed of 130mph. She is aiming to raise £500 for the Rayleigh, Castle Point & District Branch by undertaking the 20-minute flight on 6 June 2015.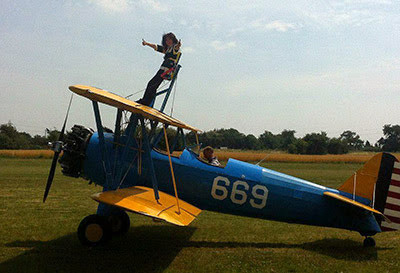 Dawnie bravely undertook a wing walk for Cats Protection in 2013
"I have followed CP since the 80s and feel they all do an amazing job of rescuing cats," Dawnie explains. "[Wing walking] is slightly out of the 'norm' so hopefully will attract more sponsors."
Dawnie completed a wing-walking fundraiser in 2013, raising £822 for the Southend Branch of the charity and hopes this event will be just as successful.
She will be attached to the aeroplane by a rig and harness and will have free movement of her legs and arms. "We'll do gentle stunts like run and break, fly pasts, and dives!" she says.
If you'd like to support Dawnie in her brave endeavour, you can donate on JustGiving here.