Three-legged Mitsy adapts to life with her new family.
This post has been written with the help of Cats Protection's North Birmingham Branch.
This week has seen another successful rehoming by the North Birmingham branch of Cats Protection, who managed to help Mitsy find her forever home.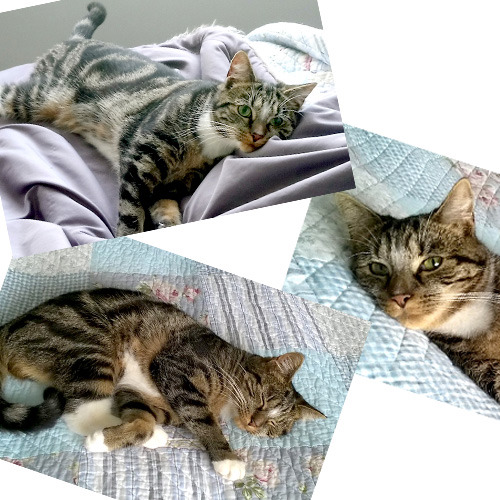 Mitsy, who is just under a year old, was taken to the vets with an injured leg. With her life ahead of her, it was decided that amputating her leg was the best course of treatment, with the branch agreeing to pledge the money for her operation.
After she had recovered, she was put up for adoption with the hope she'd find some loving owners to look after her. Kim and Paul soon spotted her on the website, and decided to make a visit.
Kim says: "We saw Mitsy on the North Birmingham Cats Protection website and to be honest, weren't sure about taking on a three-legged cat. My husband and I talked it through and thought, why not give a home to the neediest cat with the saddest background, rather than a perfect kitten? After going through the homing process, we decided she was the one for us."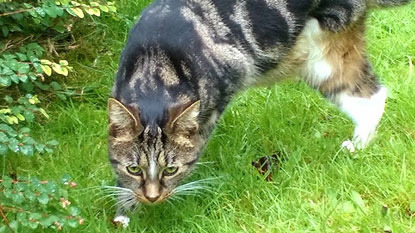 With Mitsy's amputation so recent, she was still adapting to life as a three-legged cat. A wide shelf had been made for her by fosterers, with a special ladder that gave her access to her sleeping quarters. Once she arrived at Kim and Paul's house, however, she quickly improved, progressing to making her way up and down the staircase and exploring anywhere she could!
Kim says: "She wears herself out running about everywhere and then has a lovely rest sleeping in the sun on our bed. We didn't allow previous pets on the bed, but how could we say no to Mitsy when it's such good physio for her to jump up? And displaying such happiness to have a home and comfy bed too?" Mitsy now has a new lease of life, and she's made her new owners very happy too.