After being in Cats Protection's care twice, ageing cat Cassie finally finds love.
This post has been written by Gill Canning, Co-ordinator at our Glastonbury & Wells Branch
Cassie first came into the care of the Glastonbury & Wells Branch of Cats Protection as a young un-neutered stray complete with a litter of kittens. She had found her way to a local recycling plant and luckily for Cassie, the staff were cat-friendly people who were concerned about her welfare so contacted us for help.
Once her kittens were weaned Cassie was neutered, she became a happy, friendly tortie. She was homed to a couple in Wells and life was rosy.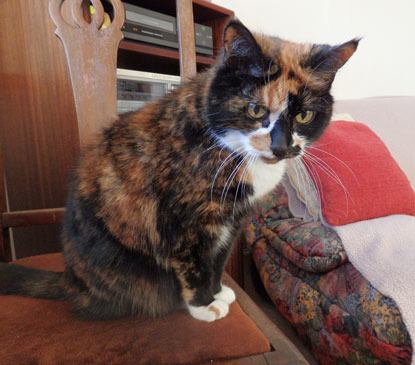 But about 12 years on, life changed when one of her owners died. The husband struggled on for a while but by then Cassie, at 15 years of age was needing care that he felt unable to give, so she came back to Cats Protection. All Cassie really wanted at her time of life was a quiet, settled life with human contact and regular meals.
While Cassie was being fostered by one of our volunteers, it soon became clear that with as she was deaf and had bad eyesight she needed an indoor home with someone who could spend time with Cassie and give her the human contact and reassurance she wanted.
At this point we received a call from a lady in Wells in Somerset who was home alone, had a safe environment and desperately wanted an elderly cat to love and cherish for her twilight years. We introduced Tracey to Cassie and it was mutual love immediately.
Cassie has found her fairy godmother and Tracey is overjoyed to have a furry, purry friend to care for.