Cat left on the streets after the death of her owner comes into the care of Cats Protection and finds a loving new home.
When her loving owner died, a confused cat was left to fend for herself on the cold streets of Brighton.
Already troubled by the death of her loving owner, the affectionate black cat was locked out of her home by a grieving family member in the middle of winter.
Thankfully, a relative of the deceased owner contacted Cats Protection's Brighton & District Branch to say that, if they wanted to collect her, the disorientated cat was roaming outside her former home.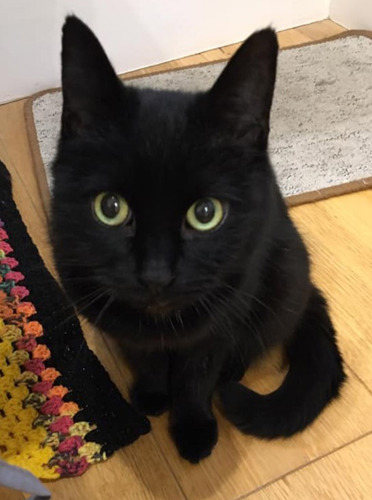 After seven attempts to contain the frightened cat, she was finally caught on a very cold and wet evening in December. By that stage, she was so hungry and tired that she willingly entered the cat trap in search of food.
She responded well to treatment and, after a good feed and some much-needed warmth in Cats Protection's care, she soon enjoyed being petted and having lots of attention. It was obvious that she was used to receiving lots of affection from her former owner.
Heather McKenzie, the publicity volunteer for the Brighton & District Branch, said: "Coco was obviously a much-loved pet, who struggled to cope on the streets. Thanks to our dedicated volunteers, we were able to ensure that once again, Coco could become part of a loving home."
Thanks to her friendly demeanour and beautiful black coat, it wasn't long before a suitable new family was found and – now renamed Coco – she became the Brighton branch's first adoption of 2020.
Coco was one of the lucky ones. Many cats are abandoned after their owner passes away, which is why Cats Protection has a free Cat Guardians service to ensure that your cat will be taken care of in the event of your death.
Cat Guardians Marketing Manager, Becky Tichband, said: "We know your cat means the world to you, which is why Cats Protection promises to be there for them after you're gone. By registering with our free Cat Guardians service you can be assured that, after you pass away, our caring staff and volunteers will look after your cat until we find them a loving new home."
For more information about Cat Guardians, visit https://www.cats.org.uk/what-we-do/catguardians