Terrified tabby-and-white cat Mushka is scalded and burned after seeking shelter under the bonnet of a car.
A stray cat who suffered from burns after seeking shelter from the cold under a car bonnet is receiving much-needed care from Cats Protection's Bridgend Adoption Centre.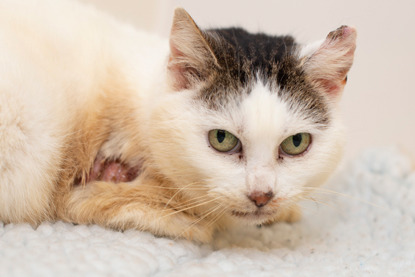 The tabby-and-white cat, who has been named Mushka, had dirty and stained fur and weeping sores on her shoulder, back and ear following her ordeal.
However, her luck changed when she was brought to the team at Bridgend.
"Mushka was very scared and shied away from our cat carers when she first arrived", said Centre Manager, Sue Dobbs.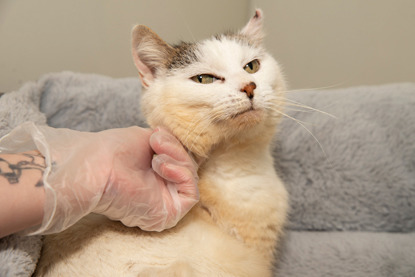 "She received treatment for her injuries and we gave her lots of TLC. "After a couple of weeks, her sores had healed enough for her to have a bath to clean away some of the dirt.
"By this time, Mushka had grown in confidence and started to wrap her paws around all of our hearts. She's become a little love bug!"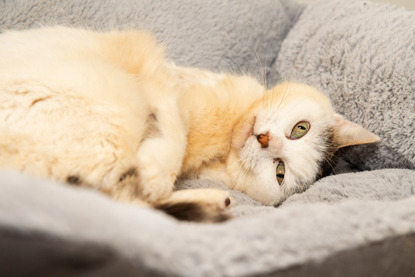 Over the next few weeks, Mushka continued to recover, slowly but surely. Eight weeks later, she has a sparkle back in her eyes and her fur is becoming shiny and white.
She has an entourage of cat carers waiting to do her bidding and she is affectionately called Princess Mushka by the team.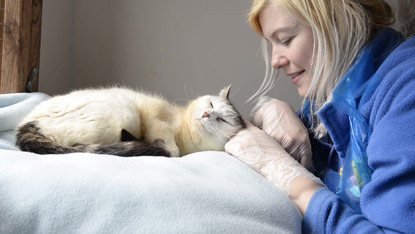 Sue said: "Mushka has come a long way from the sorry state she was in when she was first admitted into our care eight weeks ago.
"Her miraculous transformation from the poorly cat she was into the Princess Mushka we now know and love is a testimony to the hard work and commitment of the team at Cats Protection Bridgend.
"She continues to make steady improvement and hopefully will be available for adoption in the coming weeks.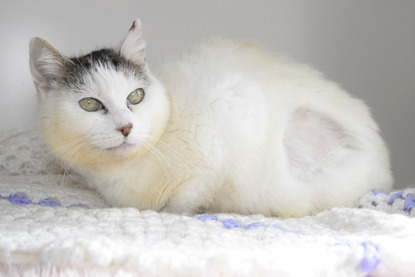 "Mushka is one of many needy cats coming into our care every year, many of whom need urgent vet treatment and lots of TLC to give them a second chance in life; this wouldn't be possible without the generosity of kind cat lovers.
"If members of the public would like to donate to support our work, they can visit our JustGiving page or text BRID to 70577 to donate £5."
If you are interested in adopting Mushka please contact the centre on 01656 724 396 or email bridgend@cats.org.uk
To find cats waiting for new homes in your area, visit www.cats.org.uk/adopt-a-cat