Our Cat Match gaming app has been updated to fix bugs.
We've released an update for our popular Cat Match app.
The update fixes a number of bugs which should increase the app's stability and mean there are fewer crashes. We've also created a new economy system whereby players are awarded coins at various intervals throughout the game so even if funds run out you can continue to run your centre. Finally, to avoid running out of money we've added a warning message which will notify if your funds begin to drop too low.
If you missed our tips and tricks video on managing your Cat Match funds, see our post here.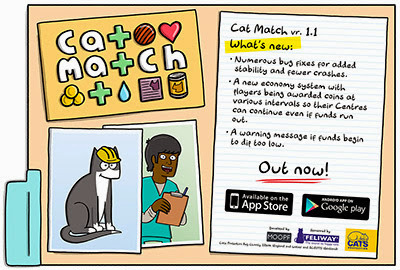 If you already have Cat Match it may automatically update, depending on your phone settings. If it does not automatically update you can visit either iTunes or Google Play and update via the 'Update' tab.
Cat Match is a brand new experience from Cats Protection combining two much-loved app mechanics with messages about cat welfare.