Black cat Panjo finally finds her dream home.
When three-and-a-half-year-old Panjo was found living in a shed in July 2014, she was in a terrible condition – her skin was sore and weepy all over her body. She was taken into Cats Protection's Exeter Axhayes Adoption Centre where she had extensive medical care including a skin biopsy and numerous different medications to try to calm her skin down. She began eating hypoallergenic food and taking on-going medication which helped.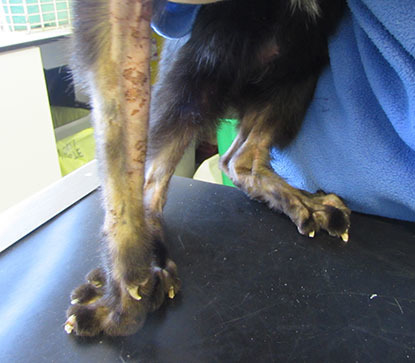 Poor Panjo's skin was very sore when she came into our care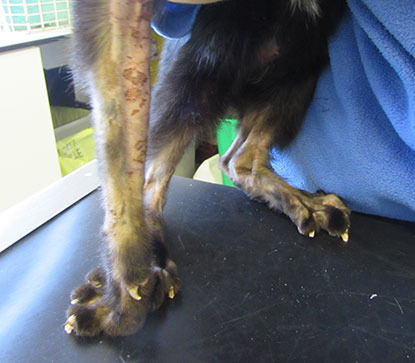 "We got her to the point where she was looking really good and found her a new home," says Adoption Centre Manager, Mark Magee. "She left the centre in February 2015, but sadly after four weeks she went out and was missing for about three weeks. Those three weeks she went without any of her medication. When the owners finally found her she was in a terrible state again and they returned her to the centre. We had to start all over again."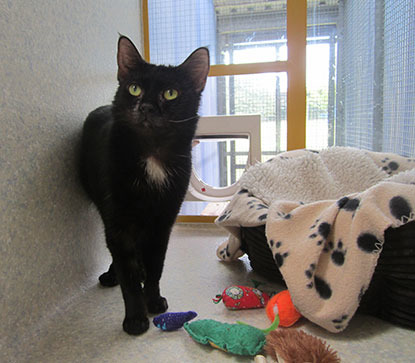 Beautiful Panjo in her pen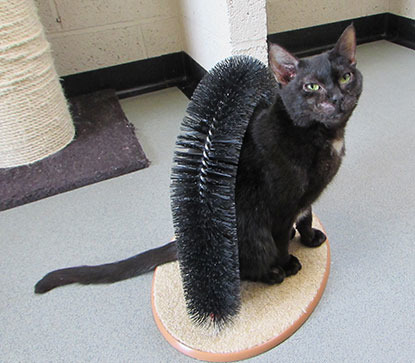 Panjo enjoying a moggy massager arch!
Despite her troubles, a new course of medication helped Panjo to make a great recovery and a couple came into the centre and fell in love with her. After being the adoption centre's longest staying resident, she was adopted on 23 September 2015.
"We saw a picture of Panjo on Facebook," says her new owner Anna. "She looked lovely and we thought we could give her a good home."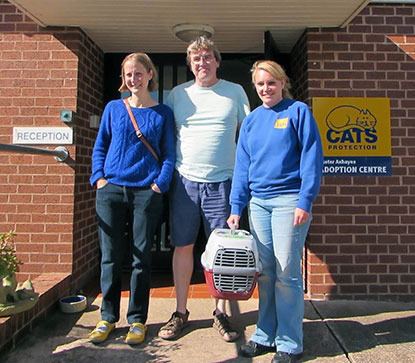 Cat Care Assistant Christie handing over Panjo to her new owners
Mark says: "She has had a bit of rough time over the last year so hopefully this is a new beginning for her. We wish her a very happy future and are sure she will be loved very much by this lovely couple who have just returned from honeymoon. We look forward to seeing more pictures of her enjoying home comforts after spending more than a year in the centre. A big thank you to them for giving her a home."