Vet Vanessa Howie answers a range of questions from pet owners about their cats' health, including how much a healthy cat should weigh and how you can encourage your cat to drink more water.
Want to know more about your cat's health? Vet Vanessa Howie answered live questions from cat owners on our national Facebook page. Here's a round-up of some of the queries she answered.
My cat is two years old and a tad on the porky side apparently: 5.6kgs. What is his 'ideal' weight?
Depending on the overall size and body frame of your cat the average UK moggy is generally 4kg in weight. Using your cat's body condition score (BCS) is generally a better way of determining whether your cat is under or overweight for his frame. Check out the PFMA (Pet Food Manufacturer's Association) Cat Size-O-Meter.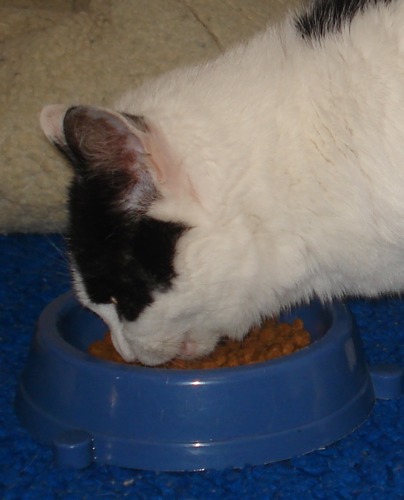 The average UK moggy is generally 4kg in weight; photo by the National Cat Adoption Centre
My cat has lost her miaow, what should I do? She's eating well.
Sorry to hear that your cat has lost her miaow. This is most commonly caused by inflammation of the larynx, which includes the voice box. I'd recommend that you get her checked over by your vet to make sure it's nothing more serious than a simple cold-like infection.
My cat suffers from ulcers in his ears, gets cold sores and very sore paws (sometimes bleeding). I've been told that he has an autoimmune deficiency disease. Could it be anything else?
Autoimmune skin disease known as the Pemphigus complex can cause the signs you describe in cats. Other allergic skin disease or infectious skin diseases may also cause similar signs. If not already done, I would recommend getting your cat examined by your vet, who may want to carry out further tests if appropriate to diagnose the skin condition your cat is suffering from. Our leaflet on feline skin disorders may be helpful.
I got my male cat back from the vets yesterday after he was having trouble passing wee. There were no crystals in his wee when they checked it. I need to make sure he's drinking plenty of water, so what's the best way to make him drink more?
Here are a few ideas to try and increase the amount of water your cat is consuming:
Changing your cat's diet to tinned food, or moistening dry food – talk to your vet if they have prescribed a special urinary diet before doing this
Using water fountains
Leaving a tap dripping
Using ceramic bowls instead of plastic or metal, as these may taint the water
Supplying multiple bowls or glasses of water
Using distilled/bottled water or flavoured broths – check with your vet to ensure the flavouring is safe for short or long-term use
The visual guide below offers some tips on ensuring your cat drinks plenty of water.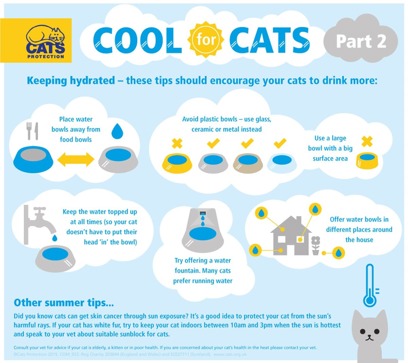 To enlarge, click on the image
Take a look at our leaflet on feline lower urinary tract disease for further information.
Veterinary note: Please note that we are unable to give specific advice on your cat's health or any change in behaviour observed. For medical problems, consult your vet who will have access to your cat's medical history and will be able to examine them.
Would you like to ask one of Cats Protection's feline experts a question about your cat? Don't miss the next live Facebook Q&A sessions: Nicky Trevorrow will be responding to behaviour queries on 21 January; Vet Vanessa Howie will be back on 4 February; and our Neutering Manager Jane Clements will be hosting the Q&A on 18 February. All Q&As are held on Cats Protection's national Facebook page from 2-3pm. See you there!