Gemma Barbieri was in tears of disbelief after being reunited with her cat Rose thanks to Cats Protection scanning her microchip
Rose was just one year old when she went missing in 2008, but Gemma always held out hope that her beloved cat would return.
When the team at our Downham Market Adoption Centre rang to say they had found her missing cat, Gemma was overcome by emotion.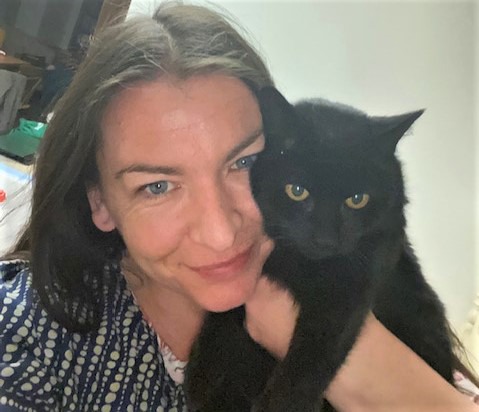 Rose reunited with her owner Gemma
Cat Care Assistant Jessica Hatcher said: "We admitted a cat as a stray and scanned her as we always do. To our joy and surprise, not only was she chipped but she had been logged as missing in 2008! This poor cat had been lost for 13 years.
"We called the number registered to the chip and prayed that it was still in use. When the lady answered, she was over the moon. We were both in tears as she shared her story."
Thankfully, Gemma still had the same mobile number that was registered on Rose's microchip when she moved from the family's previous home in Kings Lynn in 2018.
Madison Rogers, Senior Advocacy & Government Relations Officer at Cats Protection, said: "It is vital that details are kept up to date on microchips, so owners can be contacted if their cat goes missing. Moving house is a busy time but it is really important owners update their details, ensuring that phone numbers and emails are still valid."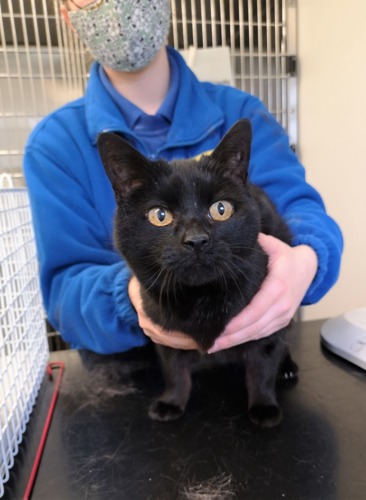 Rose in the care of our Downham Market Adoption Centre
The outcome could have been quite different though, as Gemma, who works at the British Heart Foundation store in Thetford, almost didn't answer her phone.
She said: "I rejected the call as I didn't recognise the number. But it rang again almost immediately so I thought it might be important and should answer. I'll always be grateful I did!
"I couldn't believe it when they asked if my cat had gone missing in 2008. I just blurted out 'have you found Rose?' They said a black cat brought in as a stray had been scanned and the microchip showed that she was missing. It was Rose. I was so stunned, I was shaking."
The rest of the day dragged slowly as Gemma waited to finish work. "I closed the shop on the dot of four so that I could get to Downham before five. I was so excited and terrified of being too late to collect her. I needn't have worried because the ladies at the centre were lovely, so kind. They even put together a homing kit for me; food, a litter tray and a cat carrier.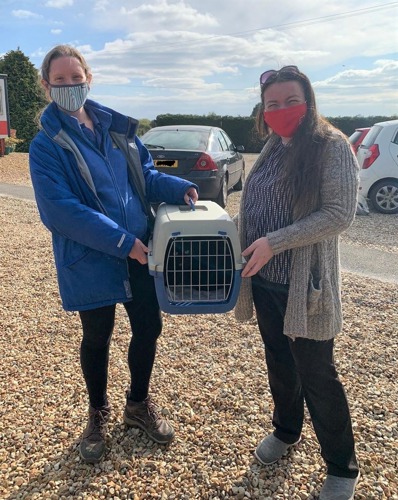 Gemma collecting Rose after she got the call 
"As soon I got Rose in the car, she was talking all the way home. She settled almost immediately when we arrived home. It was amazing. Within an hour she'd eaten, used the litter tray, explored the whole house and was laying purring on her back while I stroked her belly. She's pretty much been purring ever since and has settled in completely."
The previous whereabouts of Rose, who turned 14 in April, remain a mystery, although she is a healthy weight and in good condition. Wherever she has been, this was a good time for Rose to return home, as Gemma explained.
"My mother recently moved in with me and we always had cats when I was growing up, so I was thinking of adopting a cat as company for her while I'm at work. It's as if Rose knew it was time to come home. I can't stop looking at her and smiling. Our Rose is home."
Rose and her brother Tyler were adopted in July 2007 as an eighth birthday present for Gemma's daughter Alicia, who named them after Billie Piper's character in Doctor Who. Now living as a student in Derby, Alicia looks forward to being reunited with Rose in coming days.
Rose and her brother Tyler
Gemma said: "They were lovely, friendly kittens full of personality and went everywhere together. Tyler was more adventurous and would go exploring while Rose would hang back and watch. They would both walk to heel when called and Tyler used to try to follow me on the school run to pick up Alicia. 

"In June 2008, Tyler was hit by a car and killed instantly. We were all very upset. Then a few months later, Rose went into the garden and never returned. We put up posters and knocked on doors. Neighbours were familiar with Rose as she used to sunbathe on their sheds."
Gemma logged Rose as missing with the microchip database, but somewhere inside she had a nagging dream that Rose would come home eventually.
Gemma said: "I always hoped I'd hear one day, even if it was bad news. Because of the microchip I was pretty sure I would have heard if she'd passed away. Even though I feared the worst after so long, I still used to call out Rose's name to any black cats I saw, just in case. 
"I would see stories of pets reunited with their owners after many years and hope it would happen to me. I even felt guilty when we had to move house after 10 years in case she came home and we weren't there for her.
"I would absolutely recommend microchipping to anyone getting a cat, because it works. Everyone at Cats Protection was as thrilled as I was. I can't thank them enough."
Speaking for the Cats Protection team, Jessica said: "We were all quite emotional about the reunion. It was magical. We were so blessed to be able to reunite Rose and Gemma. Occasions such as this make our jobs so worthwhile. It really was the best ending to a weekend ever."
Cats Protection supports government proposals that would make microchipping a legal requirement for pet cats, as it is for dogs. We recommend microchipping as a safe, permanent and cost-effective method of identification to ensure more cats could be reunited with their owners if they went missing. To support our campaign you can sign our petition calling for the compulsory microchipping of pet cats.