Help us change the law on microchipping so more cats can be reunited with their owners
Over a quarter of owned cats in the UK are not microchipped, making it very difficult to reunite them with their worried owners if they get lost.
If the microchipping of owned cats was made compulsory, we'd have a much better chance of getting lost cats off the streets and into their loving homes, where they belong.
Here are just some of the happy reunions that were made possible because of the magic of microchipping…
Fluffy the escape artist is safely back home
10-month-old Fluffy escaped from her cat carrier on the way to the vet in November 2018 and owner Helen Morgan and her family searched everywhere near their home in Gosport for her.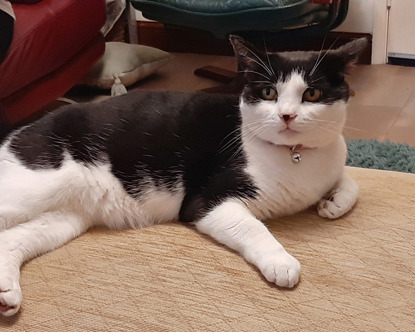 Fluffy enjoying the conforts of home. Credit: Helen Morgan
Helen said: "We were heartbroken when Fluffy escaped. We'd had her since she was just a tiny ball of fluff and we felt lost without her. My daughter went out looking for her with her dog, my son went out on his bike, my husband on his mobility scooter - we were all out searching but she was nowhere to be found."
Helen had registered Fluffy as missing with local vets and animal welfare organisations and although Cats Protection received a couple of potential sightings over the years, they turned out to be false alarms.
There was no sign of Fluffy until cat-lover Janet Lucas, who less than half mile away from where Fluffy went missing, got in touch with our Gosport Branch to say a black-and-white cat had been visiting her garden and she was concerned it might be a stray.
Carole Rudin, Lost & Found volunteer for branch, said: "We arranged with Janet that she would let us know when the cat returned to her garden and as soon as we got the call I rushed over. Luckily I was able to win her over with a few treats and scan her for a microchip.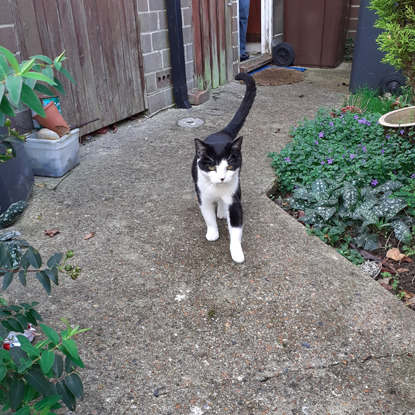 Fluffy on the day she was found in Janet's garden
"It's always a thrill when the scanner goes ping to say a chip is present and even more so when there are up-to-date details. A microchip makes such a difference to lost cats, although we have really honed our detective skills – without the details it's like finding a needle in a haystack.
"When I saw the Morgans' address and Fluffy's name, I realised it was the same cat that we'd had on our radar for two years. A quick call and within 30 minutes Mr and Mrs Morgan arrived on the scene. After a few tears of joy, Fluffy was scooped up and placed in her cat carrier which was very firmly checked to make sure she couldn't escape again!"
Helen said: "I couldn't believe it when we got the call, it was quite overwhelming. As soon as we heard, we were rushing about to find coats and keys and a carrier to get to her as soon as possible. It was quite a shock.
"It's been amazing since she's been back. Her nature hasn't changed at all, she's just as she was. I wish I'd known she was safe all this time as I thought of so many things that might have happened to her. Although she's missed out on two years of vet care and inoculations, the most important thing is that she's back with us. It's really grand to have her home."
Ruby reunited after two years missing
Five-year-old Ruby went missing from her home in Brogborough in April 2018, where owner Jordan Harvey had kept her and her sister Lacey as indoor cats because his home was close to the M1.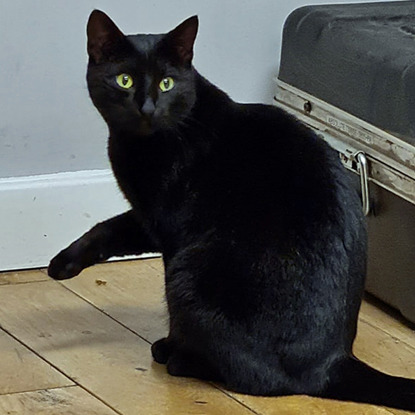 Ruby the moment she saw Jordan again after two years
When Ruby escaped one day Jordan feared the worst. Despite an extensive search he lost all hope of seeing his treasured cat again and in a cruel twist of fate Lacey also escaped not long afterwards and Jordan found she had been hit by a car.
 
Having suffered the pain of losing both cats in rapid succession, Jordan was shocked and overjoyed to receive a letter 30 months later from our Coventry Branch saying Ruby had been found and asking him to contact them.
 
Ruby, who Jordan believes may have jumped into the cab of a lorry at a truck stop near his home, had been found at an industrial estate in Coventry where kind-hearted security guard Leighton Myers had been feeding her.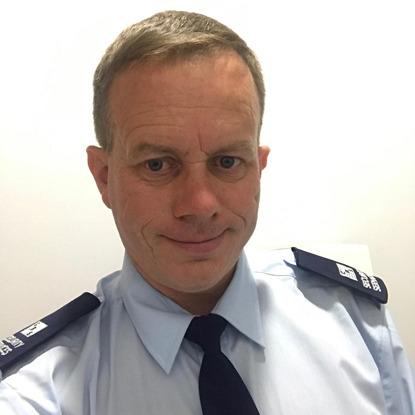 Security guard Leighton Myers who found and fed Ruby
When the little black moggy was still receiving daily meals after three weeks Leighton contacted the charity for help finding out whether she was owned.
 
Branch Coordinator Wendy Harris explains: "As soon as we heard from Leighton, one of our branch volunteers, Lorraine, visited the site to scan the cat for a microchip and luckily there were details recorded on the database. I initially tried the phone number listed on the chip but sadly it was unobtainable, so I sent an email to the address registered but after a couple of days hadn't heard anything, I then decided to send a letter to the linked address. 
 
"It is really important to try every avenue to locate an owner if a stray cat is chipped and to leave no stone unturned as was proven when my phone rang and Jordan said he had received my letter. He was so emotional and couldn't believe we had found Ruby. All he kept saying was 'wow, wow'."
 
Jordan set off on the 110 mile round-trip to collect his beloved cat who recognised him instantly and walked straight to him when he arrived.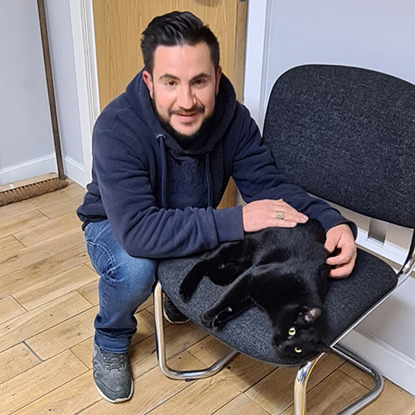 Jordan finally reunited with lovely Ruby
He said: "After Ruby went missing I was heartbroken and Lacey felt like my only companion. I was in a really dark place after she then got hit by a car so to get the call to say Ruby had been found was like winning the lottery. I can't explain how happy I was. Now she's back at home enjoying lots of strokes and it's like she never left.
"I'm absolutely buzzing from the whole experience. I'm so glad I kept Ruby's microchip up to date. Without it there's no way she'd be back with me. I'd encourage all cat owners to get their cats chipped and then keep their details up to date, it's the first thing I'll do now if I move again."
Laddo found 75 miles from home
Three-year-old Laddo had become a much-loved companion to retired NHS worker Sybil Gillatt after the unexpected death of her husband Keith. So when her feline friend went missing from her home in Doncaster in November 2019, she felt a great loss.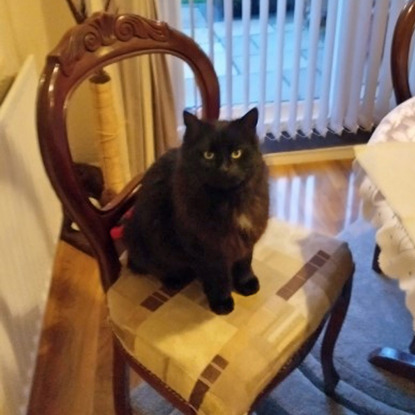 Laddo home again after his long trip
Sybil said: "Laddo didn't come back as usual that evening. I didn't worry too much because he'd sometimes do that and would sleep under the shed, but when he didn't come when I called him in the morning, I knew that wasn't right.
"The weather was quite bad that day so my son thinks that Laddo might have climbed in the back of a trailer from a nearby farm without the driver knowing. I looked for him for days and put up notices but nobody had seen him. He was gone."
One year on, Sybil hadn't lost hope that Ladoo would return, and still kept his bedding, toys and scratch post just in case.
"I lost my husband, Keith the year before. We had so many plans, then suddenly it was just me and Laddo. He was company for me. So when he disappeared I was lost. I've had a horrible year without Keith and Laddo, I really have.
"My family kept saying they'd get me another cat but nothing could replace Laddo. Although I started to fear that I wouldn't see him again, there had to be hope. People might think it sounds silly but I needed to believe that."
What Sybil didn't know, was that Laddo was being cared for by kind cat lover Karen Rice in Skegness, 75 miles away.
Karen said: "In April what I thought was a feral cat started to visit my garden. When he turned up he was thin, his coat was a mess and he was very timid. He wouldn't allow me anywhere near him but I took pity on him and named him Foxglove."
Karen gradually gained the cat's trust until she was able to get close enough to scan him with a microchip scanner she had borrowed.
"I couldn't believe it when he was chipped," said Karen. "I contacted my local Cats Protection branch, gave them the chip number and the next day they phoned to tell me that the owner had been traced. She was over the moon that her cat had been found." 
Sybil added: "I couldn't believe it was true. I am so grateful that Laddo had been looked after by a cat lover like Karen and that Cats Protection were able to trace me. I'm so glad we got him microchipped. Without that chip, I wouldn't have been driving over to collect my boy."
How you can help make microchipping compulsory
Thanks to the amazing efforts of thousands of cat lovers who have signed our petition and written to their MPs, the government is now asking the public for its views on how to introduce compulsory microchipping for pet cats.
To help us get this important law change over the line, we need you to send an email directly to the government asking them to act now on this important issue.
All you need to do is fill in our quick online form and with a couple of clicks you can send an email showing your support. Just visit www.cats.org.uk/microchippingcampaign to find out how.
Together we can help reunite more cats with their owners. Thank you for your support.