Microchipped cats Chas and Dave reunited after 16 months
When Helen Kybert moved house in Norfolk in October 2019 she was looking forward to starting a new life with her two beloved cats Chas and Dave. Sadly, just a few weeks later, Dave got out of the house and didn't return.
Worried that Dave would be lost in an unfamiliar area, Helen asked her new neighbours to check garages and garden sheds. Without any sightings of Dave, she put posters on lampposts and noticeboards and set up a social media appeal on local Facebook groups.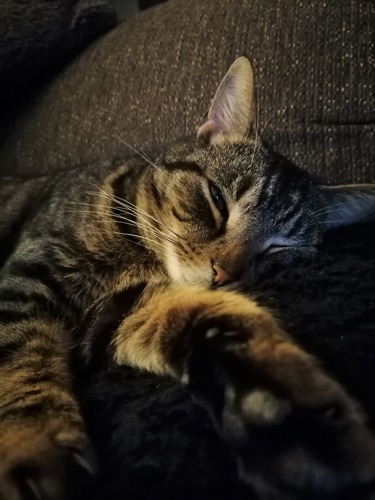 Dave went missing for 16 months 
Trying to find missing cat Dave
"I was devastated," said Helen. "The thought that Dave was gone for good terrified me. I had only moved into my home two weeks before he went missing and I felt that maybe I had been too trusting in letting him go out so soon. I regretted that decision every day he was gone.
"Family and friends knew how much I valued my cats. I had recently left a relationship and was starting life on my own, so they were very important to me. They were and always will be a great comfort to me.
"It took me many months to come to terms with that I'd probably never see Dave again. I'd see cats on social media reunited with their owners after being missing only a few weeks and because Dave had been gone for more than a year I thought I'd never be that lucky."
However, thanks to Helen's foresight, her luck was about to change. Like all cats adopted from Cats Protection, the two 11-week-old kittens had been microchipped before being homed from our Dereham Adoption Centre in Norfolk.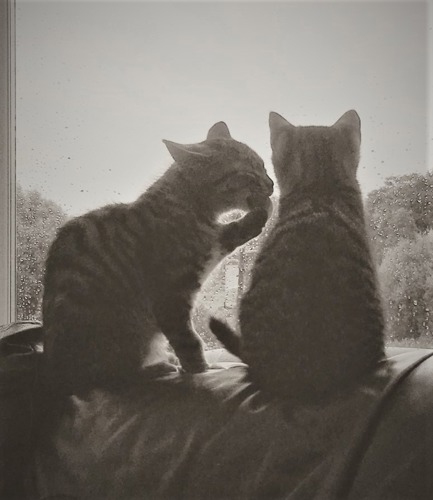 Chas and Dave as kittens 
Updating her cat's address on the microchip database
When she moved home two years later, Helen had the sense to update her contact details on the microchip database and when Dave went missing she flagged him as lost. Ultimately, taking just a few minutes to enter her new address details enabled our Downham Market Adoption Centre to reunite Dave with his brother Chas and with Helen.
"When it was clear that Dave was missing rather than just trapped in a neighbour's shed, I logged into Identibase and reported him lost. To get the premium account with the microchip I had to pay a fee. At first I was a bit reluctant because money was tight, but I'm so glad I did. If I hadn't updated my address, Dave and Chas wouldn't be together at home today. I urge anyone with a microchipped cat to ensure their details are up to date."
Dave had been missing for 16 months when Helen received a phone call that brought her to tears.
Chas and Dave happily reunited 
"Becky at Cats Protection left a voicemail but I didn't recognise the number so I Googled the number," said Helen. "My first thoughts were that the call was to tell me Dave was not alive anymore. I was so anxious when I rang back. When they said they had my boy and he was alive and well, I cried and cried.
"Becky brought him back to me later that day and to see him again was amazing. He was a bit timid at first but before long he was sat on my lap purring, happy to be home where he belonged. He looked surprisingly well, too - although a bit bigger around the middle.
"Someone must have been feeding him and I have to be grateful to them for that. Without that care and people reporting him as a stray, Dave wouldn't have survived to return home to us. I know I'm one of the lucky ones, but it shows that you shouldn't give up hope. If your cat is microchipped and your details are current, there is always a chance that it could come home."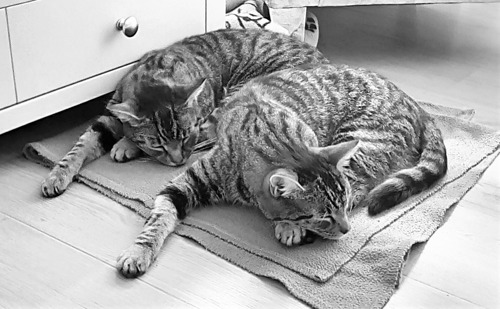 It's as if Chas and Dave had never been apart
Cats Protection reunites Dave the cat with his family
Becky Piggott, Senior Cat Care Assistant at our Downham Market Adoption Centre, said: "We were called about a stray cat that had been found and, after evading capture a couple of times, he came into our care. He was checked over and we found his chip, which was a good start. When we saw that he had been marked as missing and his details on the database had recently been updated, we were thrilled.
"Dave's owner was shocked when I called to say we'd found him safe and well. She was over the moon to get him back home. I love making these kind of phone calls, although all too often it isn't such a simple story. Too many people forget to update their details on the database."
Why microchipping cats should be law
Cats Protection supports government proposals that would make microchipping a legal requirement for pet cats, as it already is for dogs. We recommend microchipping as a safe, permanent and cost-effective method of identification to ensure more cats could be reunited with their owners if they went missing. 
Madison Rogers, Senior Advocacy & Government Relations Officer at Cats Protection, said: "It is vital that contact details are kept up to date on microchips, so owners can be contacted if their cat goes missing. Moving house is a busy time but it is really important owners update their details before letting their cats out as they could get lost in the new surroundings."
Thankfully, Chas and Dave are back together, oblivious to all the drama around Dave's long absence. "It's like he's never been away,' said Helen. "He's settled back to life with Chas and I so well. They play fight, snuggle up and wash each other just like when they were kittens. I honestly believe he remembers everything from before he strayed. Cats are amazing. I couldn't ask for a better outcome.
 
"If you want your family pet to return home, then I urge you to get your cat microchipped and keep your contact details up to date. It only takes a few minutes to do. If I hadn't updated Dave's microchip details, who knows where he would be now." 
To find out more information about microchipping your cat, visit www.cats.org.uk/microchipping-your-cat