Combine your love of Pokemon with cats – Pokestops near Cats Protection adoption centres and charity shops.
Are you hooked on Pokemon Go like thousands of others over the UK? Then why not combine two awesome things – Pokemon and cats – while playing?
'Not possible!' you cry?
Sssh… we've got the lowdown on some Pokestops near Cats Protection sites! So why not make the best of both worlds while you top up on Pokeballs?
For anyone who's not yet tried Pokemon Go, the gaming app lets players travel around a map using their phone's GPS location data to catch Pokemon to train and battle against other players. It uses real maps to track players as they visit Pokestops (usually landmarks or buildings) to stock up on free items such as Pokeballs, potions, eggs and lures. Creatures caught can be used in battle against other players at Gyms on behalf of your virtual team.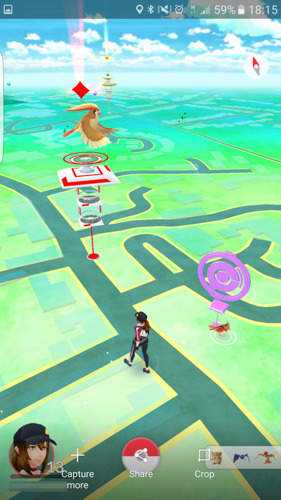 A player approaching a Gym owned by #TeamValor
The game creates an augmented reality for the player, using the smartphone's camera to show a live view of the world, with Pokemon superimposed over the top.
Here are some Pokestops you'll find near Cats Protection sites:
England
South East
Town: Chelwood Gate, Sussex
Real-life location: Red Lion pub
Virtual location: Pokestop
Right next door to the Pokestop and pub you'll find the National Cat Adoption Centre, set in 51 acres of the beautiful Ashdown Forest. The centre is the UK's largest of its kind, with over 200 pens homing cats looking for new owners. You'll also find donkeys on the site thanks to a new partnership with The Donkey Sanctuary, a beautiful nature trail and a visitor centre with a shop and café serving delicious cakes and goodies.
City: London
Real-life location: Giant doughnut, Whittington Park, Islington
Virtual location: Pokestop
Say hello to the botanical version of Dick Whittington's cat as you grab a razz berry or two and then pop into our North London Adoption Centre to say hello to some real cats. You'll find the centre at 135 Junction Road.
Town: Maidstone, Kent
Real-life location: Mushroom Statue, near Bearsted Road in Weavering
Virtual location: Pokestop
If this is your local Pokestop, you'll be pleased to hear that you're right by our new Homing & Information Centre based at Newnham Court Shopping Village in Maidstone. Not only is it a temporary home to five cats that you can meet, but you can also have an interactive experience searching our Find-a-cat database on screens and tablets for other cats needing homes in the local area. You can also learn about the charity as well as a few things about cats and their behaviour.
Town: Haslemere, Surrey
Real-life location: The Edge Leisure Centre
Virtual location: Pokestop
This Pokestop is just down the road from our newly-refurbished Haslemere Adoption Centre. The cats there live in big walk-in style pens that are large enough for visitors to enter and sit down in. Why not have a little cuddle and play too?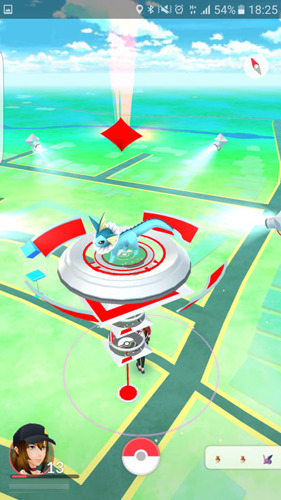 The player has just taken the Gym for her team, woo!
North
Town: Warrington, Cheshire
Real-life location 1: Padgate Station
Virtual location: Pokestop
Real-life location 2: Padgate War Memorial, Bennetts Rec
Virtual location: Gym
There are two for the price of one here – and they're right by our Warrington Adoption Centre! They have lots of cats eagerly waiting for their loving new home so you're welcome to visit the centre without an appointment (just check the opening hours on their website).
City: York
Real-life location: Red Lion pub, Merchantgate
Virtual location: Pokestop
Less than a minute walk from this Pokestop is our York charity shop. Why not donate items that you no longer need? All funds raised from donations and sales go directly to supporting our work helping around 200,000 cats and kittens every year.
Central
Town: Bewdley near Kidderminster, Worcestershire
Real-life location: The Mug House Inn pub
Virtual location: Pokestop
It's like this town was built for Pokemon – there's a place across the river called Catchems End – so Bewdley really will help you catch 'em all (wink wink)! While you're following your map to the Pokestop floating cube, why not stop off and have a look around our very first boutique? Cattitude stocks a range of ladies' premium and designer clothes and accessories, with staff and volunteers giving customers a personalised shopping experience. What's more, the money you spend will be going towards helping cats and kittens in Cats Protection's care. Find the shop at 11 Load Street.
City: Wolverhampton, West Midlands
Real-life location: Warstones Library
Virtual location: Pokestop
While you're dashing into the library to stock up for simulated battle, you could walk the two minutes down Warstones Drive to have a nose around our Wolverhampton charity shop to pick up a bargain too.
Wales
Town: Wrexham
Real-life location: Salisbury Park United Reformed Church
Virtual location: Pokestop
If this is on your doorstep, you're in luck – you're just a three minute walk from our Wrexham Adoption Centre where you'll find some gorgeous fluffy cats! What could be better?! You can also get a wealth of cat care advice and tips from our knowledgeable volunteers and staff so feel free to come by and say hello.
Scotland
City: Edinburgh
Real-life location: Vivendo Dimiscus plaque, Orwell Place
Virtual location: Pokestop
On Dalry Road you'll find our new charity shop that opened in the spring. Come in, say hello and have a rummage through our goodies. You'll also be able to have a look at the nearby cats ready for homes on our TV screens in the shop.
Northern Ireland
City: Belfast
Real-life location: Dundonald Old Mill Coffee Shop
Virtual location: Pokestop
Grab a coffee, get some poke-loot and stroke some cats at our Belfast Adoption Centre, which you'll find literally steps down the street at 270 Belfast Road. The centre is a temporary home to around 150 cats and kittens at any one time, all of which are waiting patiently for their forever homes!
Have you found any other Pokestops or Gyms near Cats Protection centres or charity shops? If so, we'd love to hear about it, leave us a comment with the details!