Kitten Tiger, who was rescued a hotel roof, is happy in his loving home.
Last autumn, we told you about a litter of eight kittens and their mother rescued from a hotel roof space by CP's Fareham & Waterlooville Districts Branch.
Branch volunteeers did a great job of caring for the tiny kittens and their mother, succeeding in finding homes for all of them.
We thought you'd like an update on one of the kittens, Tiger, who was rehomed last September. As you can see, he's turned into a stunning cat!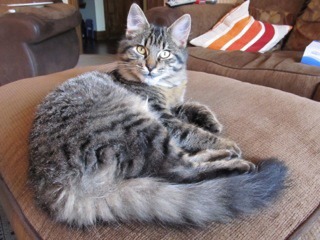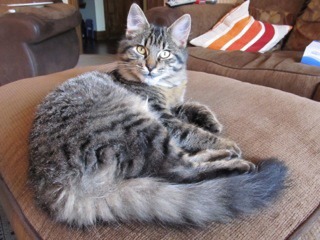 Tiger taking it easy in his new home
New owner Theresa Maggs-Hardy says: "Tiger is settling down really well and is becoming a lovely mixture of lap cat and intrepid explorer. He loves climbing trees, teasing the big ginger tom from next door – at a distance – and he's a big foodie.

"We have a Cocker Spaniel, Meg, who has been lovely with Tiger, even tolerating playful beatings from the little upstart!"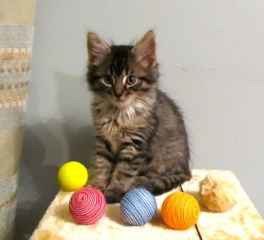 Tiger's first day in his new home, September 2012
To help CP assist and rehome more cats like Tiger, just click here.