Cats Protection has found new homes for some unwanted hotel guests – a mother cat and her eight kittens.
The charity's Fareham & Waterlooville Districts Branch in Hampshire, England, was called out to a hotel in July to catch the stray cat and her kittens, who were living in the eaves.
The hotel's caretaker climbed into the roof space and handed each kitten to Branch Trapping Volunteer Eric Silverberg. "Imagine my surprise when I received eight kittens estimated at about eight to 10 days old," said Eric.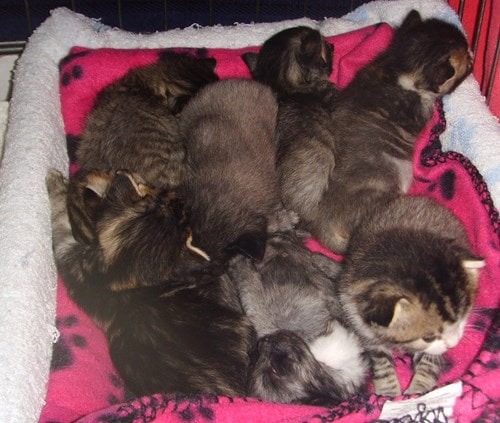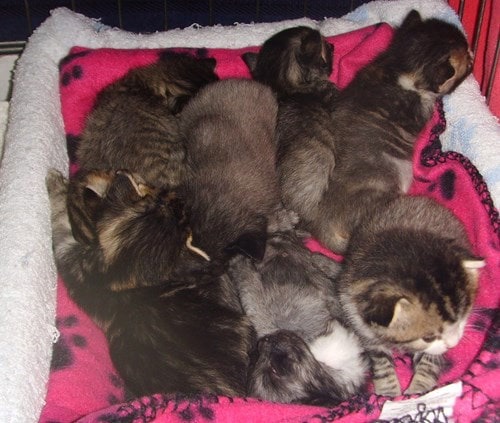 Eric and Inga looked after the tiny kittens at home
Eric took the tiny kittens home and they were bottle-fed by his wife Inga, a Kitten Fosterer for the branch. Luckily, volunteers caught the mother cat soon after and the feline family was reunited at Eric and Inga's home.
Inga said: "She was a lovely mother, a beautiful, gentle cat who never put her claws out once. But she didn't have enough milk to feed all eight kittens so I was helping her all the time." While Inga is used to looking after kittens she admits that eight was a bit like a herd.
A local newspaper, the Portsmouth News, ran three stories on the hotel kittens and soon the branch had a "queue of people" interested in rehoming them. All the kittens will go to their new homes in mid September once they're nine weeks old, the minimum age for rehoming.
With no owner forthcoming their mother, Molly, has a new home too; she's also been neutered, saving her from the hard work and health risks of having another litter. And the branch had so many enquiries from the newspaper coverage that other cats and kittens in their care were rehomed.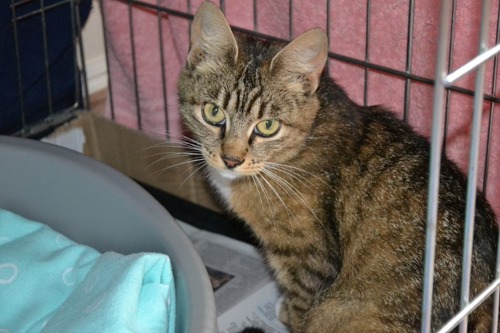 Mother Molly has also found a new home
While Inga admitted it would be a wrench to let the kittens she's cared for go, she's pleased they've all found great new homes. "There's always another litter looking for a rescue," she said. "And if I kept them, I wouldn't be able to help any others."
She added: "It feels brilliant that this has had such a happy ending, it's absolutely wonderful."