Why Cats Protection attends national shows and exhibitions.
As we prepare for this week's Cheshire County Show, our Shows & Exhibitions Manager, Emma Osborne, explains why Cats Protection takes its messages on the road...
Cats Protection has attended shows for approximately 15 years as a way of raising the organisation's profile and attracting new supporters.
During this time, the CP flag has flown all over the UK and Northern Ireland, introducing the charity's work to millions of people via its bright promotional vehicles, friendly staff and the now-famous wind machine lucky dip!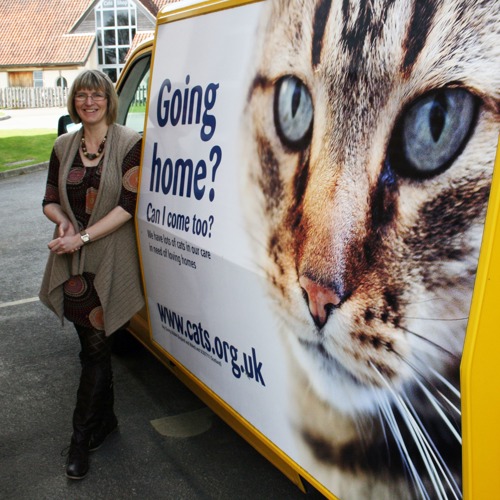 Getting a show on the road requires some planning. Once we know where we're going, the next stage is to decide what we will do at each event. To achieve better 'value for money' from attending external events, the shows function works very closely with other departments to complement and promote Cats Protection's aims and activities.
It is satisfying for staff and volunteers to have a focus to our presence as well as being able to encourage support for the charity by knowledgeably informing stand visitors about our work. They hopefully leave knowing a bit more about feline welfare and warmer to the idea of supporting us in some way.
Regional staff members manage the CP stand at county shows and work closely with local branches and adoption centres to maximise local fundraising and communications opportunities as well as to promote the charity's rehoming, veterinary, neutering and education initiatives. Given the current climate, it is always positive to meet those who are interested in adopting a cat and to start the process of helping them to do so.
We attend several large indoor shows during the year, including Crufts, the London Pet Show and three veterinary trade shows. Whether an indoor or outdoor event, the idea is the same – to promote our messages and encourage support for the charity. Having specialist staff from the charity's Education, Veterinary and Fundraising departments on hand, as well as representatives from the local network, certainly helps!
We attend some shows regularly as evaluation suggests that these are worthwhile events for us to attend. We also continually research new opportunities to promote our work to new audiences in new ways and in different areas. The Big Cheese Festival in Caerphilly and the Anglesey Agricultural Show are a couple of examples of events that we are attending for the first time this year.
The charity will have a presence at the following shows this year. We always enjoy meeting our supporters, so if you are visiting any of these events please drop by and say hello!
Cheshire County Show: Tabley, Cheshire; 19-20 June
Great Yorkshire Show: Harrogate, North Yorkshire; 10-12 July
Kent County Show: Detling, Kent; 13-15 July
The Big Cheese Festival: Caerphilly; 27-29 July
Anglesey Agricultural Show: Holyhead, Anglesey; 14-15 August
Royal Berkshire Show: Newbury, Berkshire; 15-16 September
BVNA Congress: Telford, Shropshire (vet nurse trade show); 5-7 October
London Vet Show: Olympia (vet trade show); 15-16 November