How to make your Pawsome Afternoon Tea truly amazing!
Pawsome Afternoon Tea is back for 2018 and it's going to be even more paw-some! Last year saw cat lovers from Penzance to Shetland gathering together with friends and family for a slice of cake and a cup of tea, all to raise funds for the thousands of cats and kittens in Cats Protection's care.
This year we're encouraging even more people to host events throughout April, so whether you missed out last year or fancy doing it again, you can sign up now for your free pack at www.pawsometea.org
To help you make sure your Pawsome Afternoon Tea is truly meowvellous, we've put together some handy top tips:
1. Save the date
It's a good idea to get your invites out early so your guests can put the date in their diaries. You can download some invite templates from www.pawsometea.org/resources or even set up a Facebook event to invite your friends to.
2. Choose a time
A Pawsome Afternoon Tea doesn't necessarily have to be in the afternoon. Perhaps a morning or evening event would better suit you and your guests? You could also choose to host your event outdoors if the weather will allow!
3. Try a theme
Whether it's a Mad Hatter's tea party, a teddy bears' picnic or a vintage soirée, introducing a theme will enable you to get even more creative and add some magic to the occasion.
4. Share the load (and the fun!)
Rope in some of your friends or family members to help you organise the event and delegating certain tasks to them. This will help the event run much more smoothly and enable you to take advantage of everyone's skills.
5. Be prepared
Making as much as you can in advance will make the day much more relaxing for you. Lots of food can be prepared and then chilled or frozen beforehand, ready to be baked on the day.
6. Don't forget the savoury
We all love a bit of cake, but it's always good to have a balance. Serving your guests some cucumber sandwiches, sausage rolls and mini quiches will ensure there's something to suit everyone's taste.
7. Experiment with drinks
There are hundreds of different teas you can serve your guests, so why not give them a selection? Alternatively, you could opt for a cooling iced tea, or add some sparkle to the occasion with a bit of prosecco.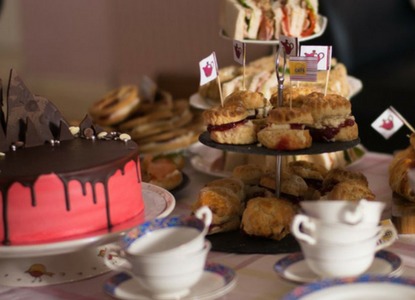 8. Provide some entertainment
The free Pawsome Afternoon Tea Pack contains some great ideas for games you could play with your guests, or if you're holding your event outdoors, maybe some croquet would keep everyone entertained.
9. Get crafty
Start the fun early by making some decorations to spruce up your venue. There are lots of ideas for cat crafts at www.pawsometea.org/resources, including bunting, balloons and pom poms!
10. Get out your crockery
Tea cups, teapots and tiered cake stands will help show off your mouth-watering spread in all its glory. Don't worry if it doesn't match or isn't expensive – you could even see what your local Cats Protection charity shop has in store.
Finally, get baking, brewing and don't forget to enjoy yourself!