Cats Protection is caring for three kittens that were seemingly tossed out with household rubbish.
Our Ipswich Branch is looking after Scrappy, Dusty and Rusty; five-week-old kittens saved by workers at a landfill site on 6 November.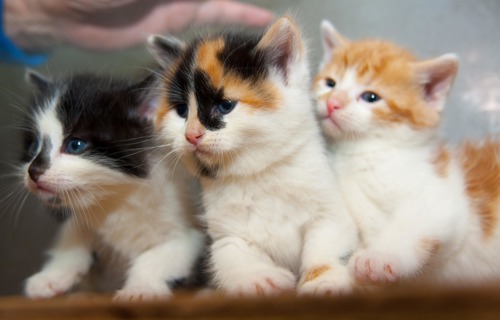 (l-r) Scrappy, Dusty and Rusty. Photo: David Garrett Photography, Ipswich
Branch Co-ordinator David Smith, who is caring for the little cats with his wife Sheila, said: "They were absolutely traumatised – very dirty, shaking and distressed. But with plenty of TLC they have already bounced back and are lovely, playful kittens. They've just been given a clean bill of health by the vet so their future looks bright."
The tiny kittens were found among household rubbish by workers at Ipswich's Viridor Foxhall Landfill site.
David said: "There was no way they could have known the kittens were in the wheelie bin, but they spotted them as soon as the truck tipped the rubbish out. They took them to a portacabin and kept them warm and dry. It was touching to see how concerned they were."
Scrappy, Dusty and Rusty should be ready for rehoming in around five weeks' time. If you would like to adopt the kittens, please visit https://www.cats.org.uk/find-us/contact-us and complete the form, mentioning 'Ipswich Kittens' in the comments box.
Ipswich Branch is just one of Cats Protection's 290 branches and adoption centres in the UK caring for and rehoming abandoned and unwanted cats. Will you help us carry on the good work? To donate, please visit our Support us page. Thank you for your support.