Microchipped cat who sailed across the Solent is reunited with her family.
For National Microchipping Month we're raising awareness of the importance of microchipping your cat. It's a simple procedure which increases the chances of a lost cat being safely reunited with their owner, should they go missing.
One lucky cat who was reunited with her owners was three-year-old Dolly, who stowed away on board a luxury motor cruiser.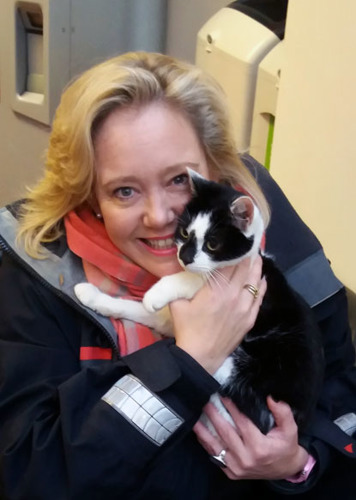 Dolly travelled from the Isle of Wight to Dorset
Adopted from Cats Protection's Isle of Wight Adoption Centre, Dolly was missing for five weeks, leaving her owner Debs Murphy-Latham concerned for her safety. Little did she expect that the black-and-white cat had made her way on board a yacht and sailed over to Poole in Dorset.
Although Dolly's inquisitive nature has resulted in a few disappearances prior to her boat trip, she could usually be found around the island.
On this occasion, Debs and her daughters Natasha and Annabelle had almost given up hope of finding Dolly again until they received a phone call from the owner of the luxury boat. Fortunately, Dolly was microchipped so they were able to trace her back to her owners, resulting in a happy reunion.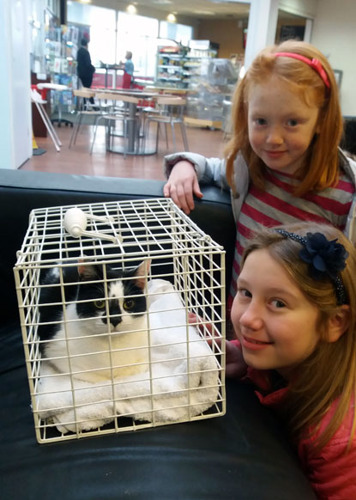 Natasha and Annabelle are happy to be reunited with their beloved pet Dolly
"I think she has developed a taste for the high life," said Debs. "It's not the first time she's tried to board a yacht."
With Dolly safely returned to her home on the Isle of Wight, there's hope that this cat has fulfilled her wanderlust for now!
Cats Protection is a member of a Microchip Advisory Group (MAG), aiming to improve the standards of microchipping across the UK. We are also a member of the Microchipping Alliance which campaigned to make microchipping a legal requirement for all dogs. We also raise public awareness of the benefits of microchipping to cats and other companion animals. Find out more at https://www.cats.org.uk/help-and-advice/neutering-and-vaccinations/microchipping-your-cat