National Microchipping Month – and how a microchip reunited lost cat Cully with his owner, Justin Hawkins.
Microchipping is an important part of cat ownership so through June, National Microchipping Month, we're encouraging all cat owners to ensure their pet is microchipped and the contact details are up to date.
Microchipping is the most effective way of identifying a lost pet (microchips can't come off or put the cat at risk of injury like collars can) and greatly increases the chances of a lost cat being safely reunited with their owner.
Justin Hawkins, frontman of rock band The Darkness is appealing to people to get their cats microchipped after Cats Protection reunited him with his missing moggy last year.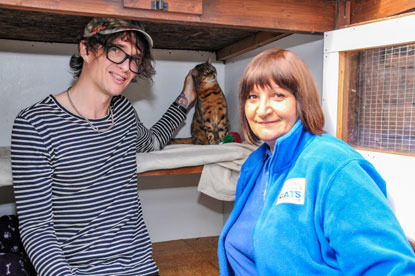 Justin was reunited with his cat Cully
He said: "When my cat Cully went missing I was heartbroken but I just knew she was still alive somewhere. I kept checking microchip databases and kept my details up to date in the hope of finding her. Three years later, after being found living as a stray, Cats Protection was able to reunite us thanks to her 'chip details.
"I was so happy when I heard she'd been found – I couldn't wait to get her home. I'm sure any cat lovers like me will agree that our pets really are part of the family and it had been awful not knowing where she was for all that time.
"She's settled back in so well since her return. I just wish she could tell us what she got up to during those years away but I guess we'll never know. The main thing is that she's back home where she belongs."
"I'd like to encourage all cat owners to get their pets microchipped in case they ever go missing. It's a simple procedure and I'd never have got Cully back without it."
Have you been reunited with your cat thanks to a microchip? We'd love to hear about it, tell us on Twitter using the hashtag #MicrochipsReunite
Find out more about microchipping your cat 
Petplan® support our work on compulsory microchipping which has helped reunite many cats and their owners, just like Cully and Justin.