Volunteers and employees at our National Cat Adoption Centre are caring for three kittens that were dumped and left for dead.
The five-month-old cats were discovered by walkers on Sunday 29 October. They'd been dumped in a filthy holdall among bracken near the Piglets car park in the Ashdown Forest, Sussex.
A passer-by saw one of the cats and alerted staff at Cats Protection's National Cat Adoption Centre, in nearby Chelwood Gate. Staff from the charity came out to search the area and found two more kittens.
All three – now named Piglet, Forest and Fidget – are being cared for at the centre and are recovering well from their ordeal. They will be closely monitored for any signs of ill health before they are ready for rehoming.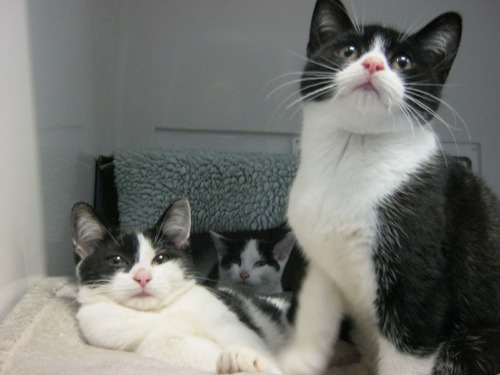 In safe hands: the kittens are now at the National Cat Adoption Centre in Chelwood Gate
Manager of the National Cat Adoption Centre Danielle Draper said the kittens would have died if they hadn't been discovered.
She said: "These are domesticated kittens that would never have been able to fend for themselves, particularly during this cold snap."
Danielle added: "It is very sad to think of these very friendly kittens being dumped in the middle of nowhere and just left for dead, they are very fortunate to have been spotted by walkers."
"If anyone finds themselves in a situation where they can no longer keep their cats we would urge them not to dump them but to get in contact with their local Cats Protection for advice on what to do."
Cats Protection staff are checking the Piglets car park area daily in case more kittens were dumped.
Danielle added: "We have no idea how many were left out there. While we are continuing to check we would also appeal to anyone who spots any kittens on the Ashdown Forest to please get in contact with the National Cat Adoption Centre on 01825 741330."
If you would like to offer a home to any of the kittens please contact the National Cat Adoption Centre on 01825 741 330. You'll find the website at https://www.cats.org.uk/ncac