Make a New Year's resolution to help Cats Protection.
After indulging over Christmas, many of us decide to get fit or stop smoking in the New Year. We're inspired to learn new things, develop ourselves or change aspects of our lives. How about this year also making a resolution to help a good cause like Cats Protection?
"I will volunteer for my local branch or adoption centre"
A research study by Royal Volunteer Society showed one in three Britons believe volunteering is good for your health and one in 10 think they should volunteer to gain work experience and skills.
Volunteering is such a rewarding experience – you will meet new people, learn new skills, challenge yourself and make a huge difference to a cause you care about.
We have roles available in all sorts of areas – perhaps you'd like to socialise kittens, write for your local branch's newsletter, organise events, manage Facebook pages or drive cats to check-ups at the vets. Have a look at our volunteer opportunities to look for volunteering vacancies near you.
"I will run a marathon for Cats Protection"
Cross something off your bucket list this year by taking part in a challenge event and raising money for Cats Protection at the same time. You can even combine this with your existing resolution. For example, if you want to get fit, why not train to run a marathon on behalf of the charity? Perhaps you've always wanted to do a skydive, bungee jump or walk across flaming hot coals?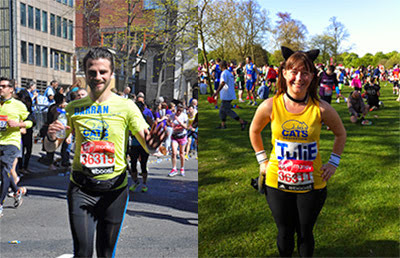 Darran Reynolds and Julie Noble running the London Marathon on behalf of Cats Protection
Find out about the kinds of events you can get involved with on our events page.
"I will give donations as presents"
With a charitable donation gift, you can make a contribution on behalf of someone to a cause that is important to them. To support Cats Protection you could buy a sponsorship gift to help provide unwanted cats with shelter, warmth, food, medical care and the love they deserve. In a gift pack, they will receive a welcome pack as well as regular updates about the cats in their sponsored pen.
All of these resolutions will help thousands of cats in our care.
What is your New Year's resolution for 2015?