Cats Protection supporter runs fundraising marathon an a driveway after London Marathon is postponed.
When the 2020 London Marathon was postponed, keen runner Aidan Jepson decided to complete a very special lockdown challenge at Cats Protection's Cornwall Adoption Centre instead.
39-year-old dad Aidan clocked up an incredible 437 laps of the centre's driveway to achieve the 26.2-mile distance, and was cheered on by his wife Libby Jepson, the manager of the centre.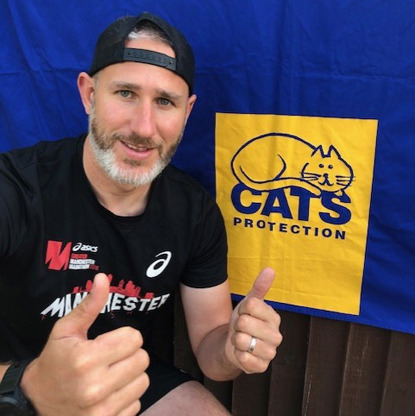 Aidan wanted to support the amazing work of his wife and her team
"I've done a few ultra-marathons and quite a few marathons in the past, so within my running social group I see crazy runs like this taking place," Aidan explained.
"With the London Marathon not happening in April, I thought it would be the perfect opportunity to raise some much-needed funds for the centre."
After setting off at 8:30am, Aidan ran for almost six hours to complete the gruelling challenge which was live streamed on the centre's Facebook page.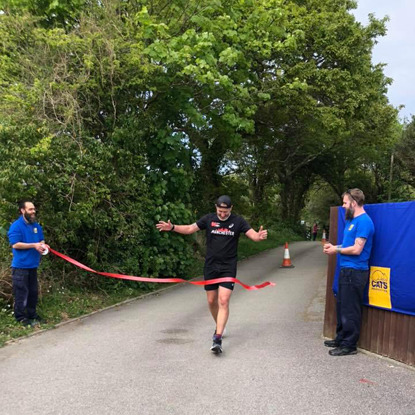 Aidan crossed the finsih line after 437 laps of the driveway
Scores of supporters followed his progress online throughout the day and donations soon exceeded the original target of £500, raising more than £1,100 for the charity.
"It was never going to be a three hour marathon. It was just great fun enjoying the day and seeing people passing by doing their daily exercise asking what I was doing."
"The centre's staff were monitoring the live feed but every now and then during the run I wanted to thank everyone for their amazing support. To double the fundraising target was awesome!"
While Aidan recovers from his epic effort, employees at the centre continue their vital work with a number of unwanted kittens amongst the cats currently in their care.
Donations to support Cornwall Adoption Centre's work can still be made on Aidan's JustGiving page.
If you're feeling inspired by Aidan's lockdown marathon, you could take on 26.2 miles your own way with our Miles for Moggies virtual challenge! Find out more at: www.cats.org.uk/milesformoggies