Elderly cats are left behind in rescue centres as kittens take the limelight.
All this week we are celebrating elderly cats, who on average take around five times longer than kittens to be adopted.*
This video demonstrates the point perfectly:
During kitten season (April – September) older cats take six-and-a-half times longer to be homed than kittens.
As feline life expectancy has increased, in particular over the past 10 years, many household moggies are now living into their late teens and early 20s in good health. There are many benefits of older cats, who often have a more settled nature and are more likely to be a lap cat. Life in a pen is no substitute for a permanent home so we would urge people to consider adopting an older cat.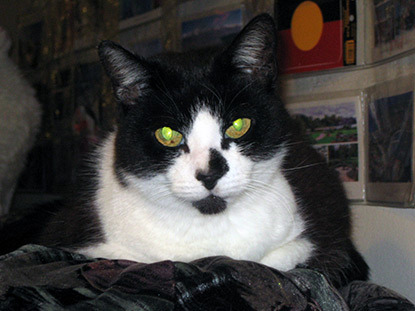 Elderly cat Katie is looking for a new home
Sixteen-year-old Katie, for example, is currently in the care of our Bristol & District Branch as her elderly owner went into hospital and could no longer look after her. Katie is in good health and is a lovely cat who loves her food and sitting on a good lap. She is looking for a home with a garden and as an only cat. If you think you can offer her a home, please contact the branch directly on 0117 966 5428 or CPBristol@outlook.com
*Kittens are classed as 0-6 months and older cats as 11 years old and over.
There are lots of simple steps you can take to ensure the later years of your cat's life are comfortable and happy – read our elderly cats page for more details.