A quick message from Cats Protection's Chief Executive, Peter Hepburn.
After that welcome to the new Cats Protection blog, how can anyone resisting posting? There's so much to say!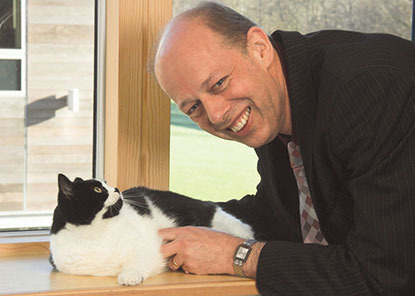 I'm very lucky, as the charity's Chief Executive, to have been to Cornwall and Devon recently, meeting volunteers and staff who care for cats and also meeting some beautiful cats too. The lucky ones who come into our care really are treated royally.
I went to the Family Fun Day run by Cats Protection's St Austell & District Branch, an event designed to raise funds for the cat work and also raise awareness. Everyone had put in a vast amount of work. We invited many other local and national animal charities to come along and local organisations that care about cats and other animals too.
I also recently wrote to thank a very generous supporter and gave details of the funds going to two branches which carry out a huge amount of cat work, but are down to their last few pounds. The gift has made a huge difference to the work they can do and provided a big boost to the morale of the volunteers there. Lucky cats!
I'd love to tell you more, but I'd better make way for others to post their stories.
Peter Hepburn