How local branches benefit from the money raised by fundraisers taking on challenge events.
This week at Cats Protection is Big Cat Week where we're celebrating our five-day Himalayan trek and three-day tiger conservation project in India.
Our intrepid Himalayan challengers can choose to support their local Cats Protection, meaning that all funds they raise go directly to that branch or centre.
Branches are run entirely by volunteers and the wonderful things that they do are only made possible by their dedication and the funds raised by them and their supporters.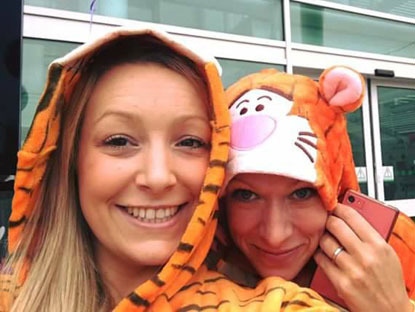 Stephanie Peel and Helena Peck are raising funds for their local branch
Stephanie Peel and Helena Peck, who are undertaking the Indian challenge, have been raising thousands of pounds for the St Albans & District Branch. Find out what they've been doing here.
The funds raised by supporters like Stephanie and Helena enable the branch to continue their important work with cats – finding forever homes for abandoned cats, neutering to prevent unwanted litters from being born, and helping people to better understand cats.
Charlie and Kit are just one example of cats that are currently being helped by the branch.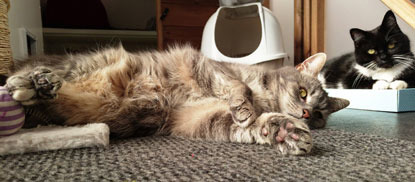 Charlie and Kit
Charlie's owners were unable to take him and his nephew, Kit, with them when they moved, so they signed them over to the care of the St Albans & District Branch.
Although shy at first, Charlie seems much more confident and affectionate when he becomes familiar with people. He thoroughly enjoys having a good brush too!
Wonderful, sweet Kit is very timid and easily frightened, preferring to observe at first. However, his playful, friendly and vocal nature begin to show as he becomes more comfortable and interactive with you. His love of feather toys brings him to life, springing into action as he chases them around.
Charlie and Kit are very attached to each other. They play well together and groom each other and curl up together.
Thanks to care from the branch, Charlie and Kit will hopefully find a new home very soon.
If you're interested in adopting Charlie and Kit, please get in contact with the St Albans & District Branch directly on 0345 371 2064 or stalbanscp@hotmail.co.uk