Sponsor a cat pen to help cats like Jingle.
Four-year-old Jingle was admitted to us by her owners when they were moving and could not take her with them.
Poor Jingle was in quite a bit of distress when she first arrived – we soon discovered she was suffering from a case of untreated cystitis and a luxating patella, which is a knee joint that dislocates. Thankfully, we were able to effectively treat both of these conditions and lovely Jingle is much happier now.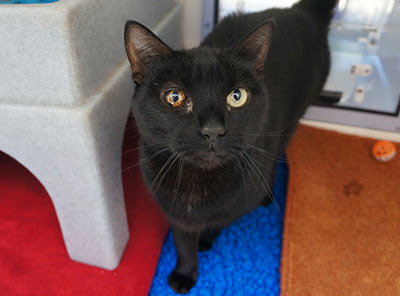 This gorgeous, friendly young girl is very lively – she has lots of energy and loves human attention. She would best suit a home with older children and with no other cats or dogs, so she can really be the queen of her future household! Jingle absolutely loves to play, so when the volunteers visit her with feathers and strings it is usually the highlight of her day!
Here she is, enjoying a fuss:
Sadly, Jingle is just one of thousands of unwanted black cats who pass through our centre each year. She is in one of our sponsored pens at the National Cat Adoption Centre.
Sponsoring one of our cat pens is one of the best ways you can help cats in our care and you can do so for as little as 19p a day. Find out more about sponsoring a cat pen and make a difference today.