Do cats need to wear sunscreen in summer?
As the summer months approach and we start to see the sun more and more, slapping on the sunscreen becomes a common ritual for many Brits. However, should we be covering our cats in sunscreen too?
Even though most cats have a protective layer of fur, their skin is still at risk of sunburn, particularly if their fur, ears or nose are white.
Nancy, a cat currently in the care of Cats Protection's Tendring & District Branch, knows this all too well.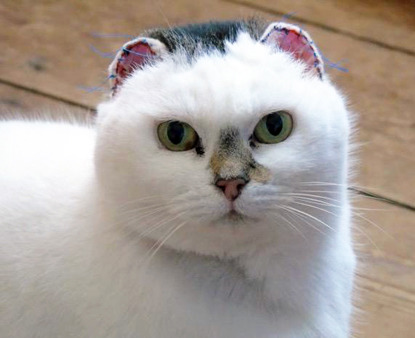 Nancy with stitches in her ears after her operation
Having spent most of her life living outdoors, this tabby-and-white cat suffered serious sun damage to her ears. This had also produced pre-cancerous cells, resulting in Nancy having to have the tops of her ears removed to prevent the risk of cancer developing.
"Poor Nancy was in quite a state when she first arrived in our care, with both ears having sustained serious sun damage," said Julie Clouting, Nancy's fosterer.
"Nancy can be a bit shy at first but despite all she's been through, she is such a sweet and caring cat who needs a second chance at finding her forever home. Now fully recovered from her surgery, we are desperate to find her a home, with patient owners, where she can be the only pet needing love and attention."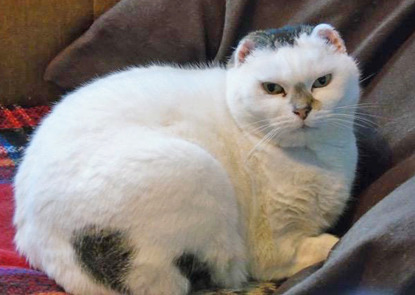 Nancy after her stitches had been removed 
Protecting your cat from the sun 
To keep your cat safe from the sun's harmful UV rays, there are a number of precautions you can take. However, before you start applying your own sunscreen to your moggy, speak to your vet first. They will be able to advise you on a sunscreen that is suitable for cats, as moggies can be sensitive to some of the chemicals in human sunscreens and may lick them off of their fur.
Another way you can keep your cat safe, is to keep them indoors during the hottest parts of the day, or provide them with some shade outdoors – plants, trees or cardboard boxes all create purrfect shady spots for a snooze.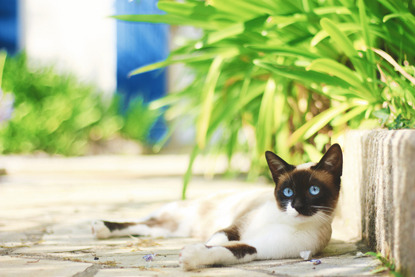 Spotting the signs of skin cancer 
Skin cancer is a common consequence of too much sun exposure in cats so it's important to be vigilant and look out for the signs if your cat likes to snooze in the sun.
The first indication is a dark crusty legion or a wound that won't heal, commonly forming on the nose or ears. This can then progress to ulcerated areas that can spread around the cat's face.
If you spot these signs then take your cat to the vet as soon as possible. It is possible to treat these symptoms with surgery, radiation therapy or cryosurgery (using liquid nitrogen to freeze the affected area) to remove the cancer and get your cat back on their paws.
Find more advice about keeping your cat safe in the sun.
Prevention is always better than a trip to the vet. Our partners at Petplan® have supported our hot weather advice for cats for 20 years.