A trio of kittens are available for adoption – can you take them in?
Today is National Siblings Day and Cats Protection's Stockport Branch is hoping to find a home for a trio of adorable brothers and sisters in their care.
Although cats are a solitary species and usually more than happy to live alone, six-month-old sisters Charlotte and Anne and their brother Branwell are an exception.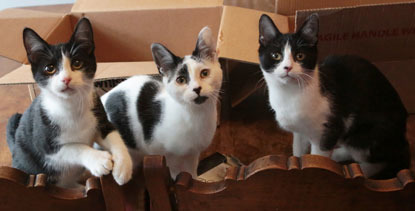 "Charlotte, Anne and Branwell are definitely advocates of brotherly and sisterly love," explained cat fosterer Kate Weir. "Born as a litter of five, two of their siblings were rehomed when they were kittens and as time has gone on, these three have become best friends.
"They were quite poorly when they were kittens but after some love and care they are now back on their paws and ready to find a home, hopefully all together."
Charlotte, Anne and Branwell were named after siblings in the nineteenth-century Brontë family of poets and novelists.
Like all Cats Protection's cats, these three are microchipped, neutered, vaccinated and up-to-date with their flea and worm treatments. In addition, they also have four weeks of pre-paid pet insurance.
Kate added: "I'm always sad that people overlook black-and-white cats because they prefer the brighter colours like ginger or tabby. However, the most important thing is personality and temperament and these three are so sweet-natured. After a full day of playing, they love nothing more than curling up on a lap."
If you live in the Stockport area and would like to offer Charlotte, Anne and Branwell a home, please call 0345 260 1854 or visit www.stockport.cats.org.uk
To find a new feline friend available for adoption in your area, please visit www.cats.org.uk/adopt-a-cat
For advice about cat behaviour in multi-cat households, please visit https://www.cats.org.uk/help-and-advice/cats-and-your-family/other-cats