An elderly cat has been reunited with her owner, thanks to a Cats Protection branch in Scotland and a little help from Facebook.
Little Size, a 23-year-old tabby-and-white cat, was found in the middle of a park during a heavy rainstorm, in some distress. She was handed into CP's Arbroath and Central Angus Adoption Centre who took her into their care.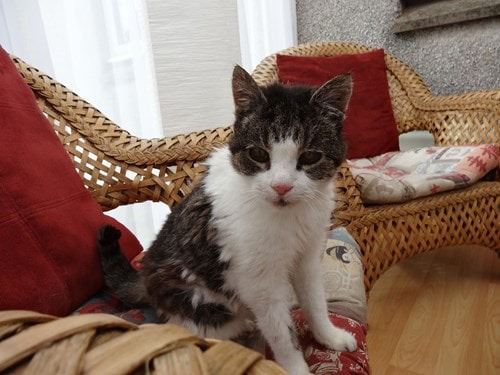 Tabby Little Size is safely back at home, thanks to Cats Protection
Centre Co-ordinator Sharyn Wood said: "We felt sure her owner must be looking for her, so I put a story on my own and the branch's Facebook page, asking everyone to share. Over the next few days there was huge activity on the site which, at its peak, numbered 5,835 shares with 269 people talking."
All this publicity led to two positive identifications, as a pair of Facebook users recognised Little Size as the playground puss of their school days. The cat belonged to Mr and Mrs Adam of Friockheim, near Arbroath; Mr Adam had worked as a caretaker at a primary school and the cat had been a regular feature around the grounds, making firm friends among the pupils.
"She is now back home enjoying the comforts of her sunny seat in the conservatory," added Sharyn.