Two cats miraculously survive long-haul flights
Update: Stowaway moggy Mango has now found her forever home with new owners Sarah and Matt. 
They said: "We wanted to say thank you again for taking such amazing care of Mango. She is settling in well.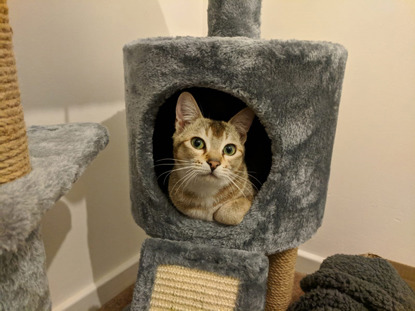 "She is very inquisitive and playful. Her neuter wound is nearly completely healed which is great and she's got a great appetite."
Good luck in your new home Mango!
When a flight from Saudi Arabia landed at Heathrow Airport in April, the airport staff were shocked to discover a terrified cat in the hold.
The poor tabby-and-white moggy was clearly distressed after travelling over 3,000 miles from the Middle East and proved difficult to trap inside the aircraft.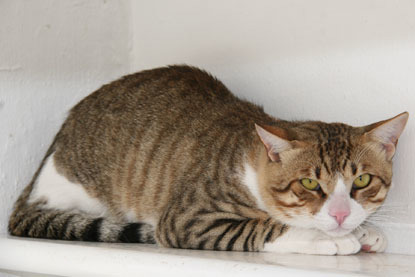 Saudi stowed away on flight SV113 from Saudi Arabia
Once he was eventually caught, Victoria Howell, Animal Health Officer at Heathrow Animal Reception Centre, contacted Cats Protection for help in caring for him and tracing his owner.
As there was no record of any cats on flight SV113, it is thought the moggy, who has now been named Saudi, must have been a stowaway who sneaked on board at King Abdulaziz International Airport near Jeddah.
He is not microchipped and so Cats Protection is appealing for anyone with information about his owner to come forward.
If you have any information about Saudi, please contact Cats Protection's National Information Line by emailing info@cats.org.uk or calling 03000 12 12 12.
The second stowaway cat arrived just a few weeks later and was discovered in a suitcase full of mangoes, pineapple and rice.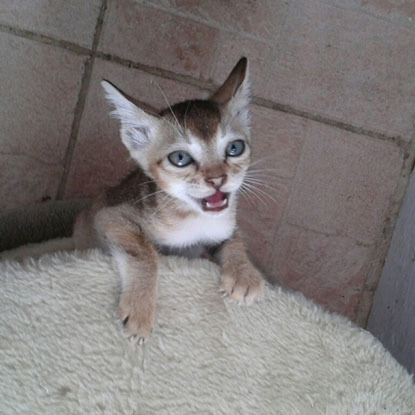 Mango was found in a suitcase having travelled from Bangladesh
The suitcase owner, who had arrived from Bangladesh, recognised the friendly kitten as belonging to his maid and said it must have been on two flights before arriving at Heathrow.
"It's extraordinary how both these cats survived their long journeys with little ventilation – especially the kitten," said Beverley Russell, Cats Protection's Operations Support Manager. "We can only assume he ate some of the food in the suitcase so he's been given the name Mango. Both cats are now in quarantine and we'll be looking for new owners once they're out – unless we can trace the owner of the Middle Eastern cat."
If you would like to make a contribution to the cost of the cats' quarantine fees, you can text QUAR56 with the amount to 70070 (example QUAR56 £5 to 70070) or visit: www.justgiving.com/catsprotectionquarantineappeal