The making of Haselmere Adoption Centre's video entry for the Support Adoption For Pets competition.
A post from our volunteer guest blogger, Russell Stedman
As I cruised along the country roads of Surrey towards Cat Protection's Haselmere Adoption Centre on Wednesday 11 June, the warm sun was streaming through the trees and I knew we were going to have a great shoot.
I was delighted to have been asked to produce Cat Protection's video entry for the Support Adoption For Pets competition. Cats Protection was invited to apply for one of 10 grants of £50,000 by Support Adoption For Pets, and the charity needed to enter with a video explaining what they'd do with the grant if they won.
I have been volunteering in the media office at the National Cat Centre for a month or so now and when the competition came up, I was suggested for the video as I have been producing videos for a few years.
We needed a quick turnaround to get the video completed, as the sooner it was uploaded to Facebook, the sooner people could start voting. After a fair few emails and phone calls, the script was finalised the Friday before the shoot and we were ready to go.
Cats Protection decided to film the video at the Haslemere Adoption Centre in Surrey, where they desperately need to build new isolation pens. I wanted to feature as many of the staff and volunteers talking on camera as possible, but having spoken to Suzie Prigmore, Manager at Haselmere Adoption Centre, I knew she was nervous about this. I didn't know how many of the other staff would be willing to speak on camera until I arrived at the centre on the day of the shoot, which concerned me a little as I like to be fully prepared when filming.
When I first arrived, I got everyone together to discuss what I had planned to film that day. Suzie, Joe and Terry agreed to speak on camera and I sent them off to learn their lines while we began filming the sequence with featured cat Rouix.
I was very lucky to have got my good friend Matt to operate the camera for me on this project, while I directed the action.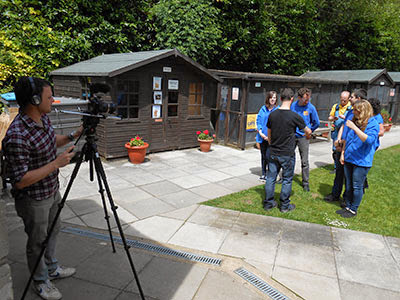 People say you should never work with kids or animals. I soon found out why…
The first scene we filmed was with Rouix, on the table in a treatment room. Although he was perfectly happy, Rouix was a bit camera shy and wasn't able to stay on the table for very long at all. I was quite worried about this as the opening sequence to any video is the most important and has to grasp the viewer's attention quite quickly. Staff member Anna who is holding Rouix in the video was very good with him though. When she started grooming him, he did settle down a bit and we finally managed to get some good shots. In the end, we filmed him constantly for about 15 minutes but only got him to look at the camera for a few seconds!
Despite a tricky start, the rest of the filming went really well and the whole day was really enjoyable for everyone involved.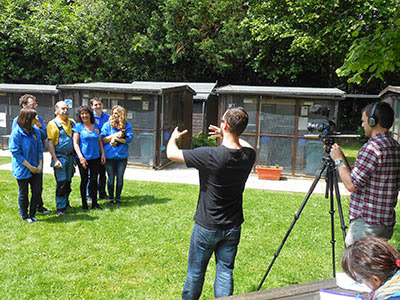 For me, there were several highlights. The first was when we came to film the group shot, featured at the end of the video. The initial part of this involved Suzie speaking her line, before zooming out and filming the whole team shouting "Please help the cats at Haslemere Adoption Centre!". Everyone seemed really buzzed up and happy, so it was a pleasure to work alongside such enthusiastic and positive people. I think their personalities and dedication to their job really comes across in the video.
Suzie's line was long and tricky for her to remember, so we started off by splitting it in two. I read the line out loud and she repeated it on camera.
I knew that when it came to editing the video it would be hard to bridge these two lines together due to the background noise, so rather cheekily I pushed Suzie to say the line all in one go. She had obviously warmed up and started to get her confidence because after only a few takes she managed it. I was so happy for her I punched the air, ran up to her and gave her a big hug. I think she was pleased with herself, but also quite relieved!
The next highlight features staff member Terry (or 'One Take Terry' as he became known), as most of his parts were completed in just one take! Just by reading through his lines a couple of times, he was able to speak them to the camera without any problem at all. He was such a professional and it made my job so much easier on the day.
When filming the scene where Terry makes the appeal for the grant, the cat next to him jumped up to look at him! I couldn't have made that happen if I wanted to, it was just luck on the day. (Check out the scene at 1:50 in the video) Terry has such a strong voice for filming and I would have liked to have featured him more in the video, but I was concerned his superb moustache was going to take attention away from the cats!
The final highlight was the cats. We managed to get some fantastic shots of them and my favourite was the shot of the three kittens, Desmond, Daphne and Dougall. Daphne even gave us a very cute mew, which I edited in right at the end of the video.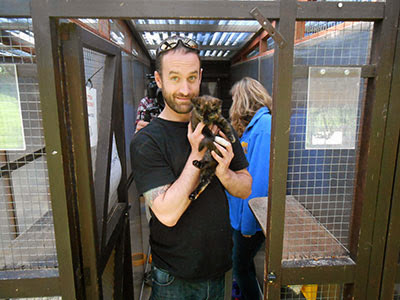 Making this video has been one of the most enjoyable projects I have worked on. The staff at Haselmere were absolutely fantastic, allowing Matt and I to come into their centre for the day and poke cameras in their faces. They gave us everything we needed to make the filming go smoothly, even topping us up with ice lollies and sandwiches!
I sincerely hope Cats Protection Haselmere Adoption Centre is awarded a £50,000 grant. The centre is in desperate need of a refurbishment and the staff there work so hard to support unfortunate cats with limited resources.
To view and vote for our video you need a Facebook account and you also need to 'Like' the Support Adoption For Pets Facebook page. You can then vote for the video by clicking the vote button at the top left-hand side of the video.
This post has been written by a guest blogger. The views expressed in this post do not necessarily reflect the views of Cats Protection.