Cat with chronic kidney disease is offered his last home by a kind volunteer.
Poorly cat Marvin was looking at spending his final days in a centre until a kind cat lover stepped in and took him home.
When the nine-year-old moggy arrived at Cats Protection's Tyneside Adoption Centre he initially appeared well.
Marvin in his pen at the adoption centre
He was a little overweight so was put on a diet, but he began to lose weight quicker than expected. He was also drinking more frequently, so the concerned centre team took him to the vet.
After undergoing a few tests, Marvin was diagnosed with stage two kidney disease, a condition which sadly cannot be cured.
Centre Manager Emzi Frater said: "Speaking to the veterinary team it was unknown how long he had left; it could be a few months or a year, but his condition would certainly be chronic with no treatment options other than special renal food to support.
"In challenging situations such as his, the best we could hope for was a caring person to come forward and offer him a safe, warm home to spend the rest of his days."
That's when kind-hearted Karen Hobbs, a volunteer at the centre, stepped in. She had been following Marvin's journey and had fallen in love with him.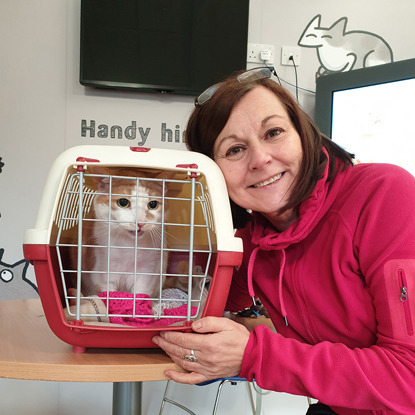 Karen Hobbs ready to take Marvin home
"I'd met Marvin in my capacity as Cats Protection volunteer," said Karen. "I found him to be such a sweet, affectionate boy with a lovely temperament, and as he is in need of end of life care due to his condition, I decided to adopt him.
"Marvin settled very quickly and seems such a happy boy. He is an absolute pleasure and has made us smile so much."
Emzi added: "The whole team are thrilled that by joining Karen's family, Marvin has an experienced cat carer who will be able to meet his welfare needs, including regular veterinary check-ups, to help make the right decisions about his ongoing care and keep him comfortable and pain-free.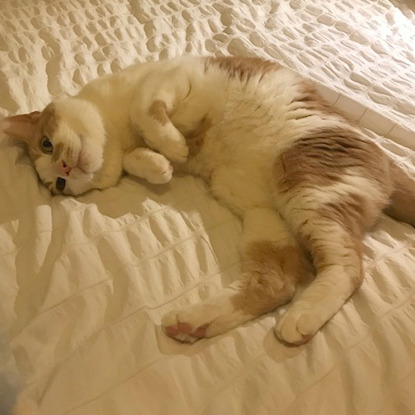 Marvin making himself comfortable in his new home
"Each and every cat that comes in to us is treated with care and kindness and, though sometimes difficult decisions do need to be made, we always do what is in the best interest of the cat's welfare.
"We often take cats into care with health conditions and ensure excellent veterinary care and advice is given for each cat so owners know what to expect going forward. We ask people to not rule out rehoming a cat with a health condition as they can be very rewarding."
If you would like to offer a cat a safe and loving home, visit www.cats.org.uk/adopt-a-cat to find cats available for adoption in your area. 
For lots of advice on caring for a cat no matter what their age and health status, visit www.cats.org.uk/help-and-advice