A survey conducted jointly with the Pet Food Manufacturers Association found that nearly half of the UK's owned cats are not microchipped (3.3m).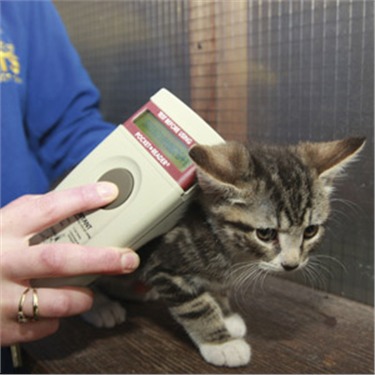 Cats Protection is urging pet owners to microchip their animals during National Microchipping Month (June) following recent research which found that nearly half of the UK's owned cats are not microchipped.
The survey, which was conducted jointly with the Pet Food Manufacturers Association, discovered that out of the UK's 7.4m owned cats, only 4.1m are microchipped (1).
It also looked at regional variations and found that Scottish cat owners are the least likely to microchip their cats (only 32 per cent) and the South East the most likely (at 69 per cent).
New Government rules stipulate that all dogs in England must be microchipped by 2016 so the argument for getting a pet chipped is stronger than ever, according to the UK's leading feline welfare charity.
"This National Microchipping Month we're urging people to put the safety of their pet first and get them chipped," said Karen Thompson, deputy manager at the charity's national adoption centre.
"The procedure is simple, relatively painless and essential to ensure the ongoing welfare of a family pet. The cost is minimal but the joy felt by an owner when their pet is found is priceless."
In the past year Cats Protection has reunited countless owners with their lost moggies – all thanks to microchips.
One such cat is Fred whose family was moving from Cornwall to France and stayed with some friends prior to their move. Fred managed to get out and did not return so his owners had to leave the country without him.
Fortunately his owners had updated his microchip details with their new French phone number so, four years later when Fred ended up at Cats Protection's Launceston and District branch, they managed to reunite him with his delighted family and he is now enjoying a new life in France.
"Fred's happy ending was only possible because his owners had updated his details which many people forget to do," said Karen.
"This lovely story simply wouldn't be possible without microchipping so we are urging all animal lovers to put safety first and give themselves peace of mind by ensuring their pet has a microchip with updated details."
More information about microchipping can be found by clicking here

- Ends -
For further information or an interview, please contact Cats Protection's Media Office on 01825 741 911, at media.office@cats.org.uk or @CPMediaTeam on Twitter.
Notes to Editors:
1. A PFMA/Cats Protection Pet Population (microchipping) Survey 2015 found that around 3.3m owned cats in the UK are not microchipped.
2. Cats Protection is a member of a Microchip Advisory Group (MAG), aiming to improve the standards of microchipping across the UK.
3. Cats Protection is also a member of the Microchipping Alliance which is currently campaigning to make permanent identification (microchipping) compulsory for dogs and raise public awareness of the benefits of microchipping to cats and other companion animals.
4. Cats Protection is the UK's leading feline welfare charity and helps over 194,000 cats each year through a national network of over 250 volunteer-run branches and 31 adoption centres.
5. Cats Protection's registered charity number is 203644 (England and Wales) and SC037711 (Scotland). Founded as the Cats Protection League in 1927, the charity adopted the name Cats Protection in 1998. We ask that you use the name Cats Protection when referring to the charity in all published material.
6. More information about the work of Cats Protection can be found at www.cats.org.uk