Cats Protection urges cat owners to plan for the future and sign up for Cat Guardians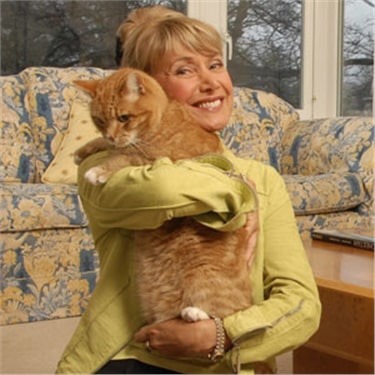 Cats Protection urges cat owners to plan for the future and sign up for Cat Guardians
A BBC veteran is urging fellow cat owners to sign up to paws for thought and consider making provisions for their beloved pets should they pass away.
Jan Leeming and Cats Protection is calling on cat owners to consider joining its Cat Guardians service, a free service aimed at giving peace of mind to cat owners concerned about what might happen if they were to pass away before their cat.
Through the Cat Guardians service, owners can make arrangements so that in the event of their death, the charity will take care of their cats until they find them a loving new home.
Cats Protection ambassador and broadcaster Jan Leeming said:"The older you get the more im-portant your pet becomes. They can be the biggest comfort to an elderly person and their closest companion.
"Sadly many elderly people are reluctant to get a pet because they don't know what will happen in the event of their death or needing to go into care. This is a great shame because elderly people can derive huge comfort from just having the contact of a cat on their lap
"Now the Cat Guardians service exists, elderly folk need not have the same worry should their pet be left behind. Having a cat is a joy but also a huge responsibility. It is great that we can now plan for our pets, on the understanding they will be looked after when we are gone.
"Tamby my cat is my companion and a part of my family, it is therefore important that there is a plan in place for him should anything happen to me. He is an old boy of 16 but very special. It is crucial that I have the reassurance of knowing he would be looked after should I go first."
New research has revealed more than three quarters of British cat owners make no plans for their beloved pet should they pass away.
A Cats Protection survey showed 91 per cent of UK cat owners consider their cat to be a family member but only 23 per cent have made plans for their cat in the event of their death.
Unsurprisingly, pet owners over the age of 55 were more likely to have made arrangements for their cats but still just 28 per cent prepare for their pet's life after their death.
Of those surveyed who don't have a plan in place, 40 per cent assumed a friend or family member will take care of the responsibility if they pass away.
However, this assumption could land relatives or friends with an unexpected hefty bill, with one in ten (13 per cent) spending on average of £250 a year on their cat.
And with the average number of cats per household being two, relatives could be forking out an additional £500 a year.
Becky Tichband, of Cats Protection's Cat Guardians service, said: "Our beloved cats have a special place in our hearts and this is supported by our research, which reveals that the overwhelming majority of cat owners see their cats as being part of the family.
"Although it can be difficult to think about what will happen when we are gone, it is important to ensure that our cats will be looked after. It is great that many people feel they can rely on their friends and family to take their cat in but this isn't always possible.
"With Cat Guardians, we offer an invaluable peace-of-mind service, which is entirely free of charge. If you pass away and have registered with our Cat Guardians service, then we will arrange to bring your cat or cats into the care of one of our nearby branches or adoption centres.
"Once there, Cats Protection will care for your cat for as long as it takes to find them a loving new home that matches their personality and needs."
Many people who register with Cat Guardians also choose to remember Cats Protection in their will, as a result of the time and effort the charity is willing to exert to secure the welfare of their cats.
To find out more information about the Cat Guardians service or to leave a gift in your will to Cats Protection visit www.cats.org.uk
ENDS
For more information please contact Smoking Gun PR on cats@smokinggunpr.co.uk or 0161 839 1986.
Photo of Jan and Tamby courtesy of Mike Lawn
Notes to Editors:
Cats Protection is the UK's leading feline welfare charity and helps over 205,000 cats each year through its national network of over 250 volunteer-run branches and 31 adoption centres.
Cats Protection's vision is a world where every cat is treated with kindness and an understanding of its needs.
Cats Protection's registered charity number is 203644 (England and Wales) and SC037711 (Scotland). Founded as the Cats Protection League in 1927, the charity adopted the name Cats Pro-tection in 1998. We ask that you use the name Cats Protection when referring to the charity in all published material.
More information about the work of Cats Protection can be found at www.cats.org.uk