Animal Welfare Minister David Rutley MP visited Cats Protection's Macclesfield Branch on Friday (5 July) to see first-hand how the charity helps cats in need.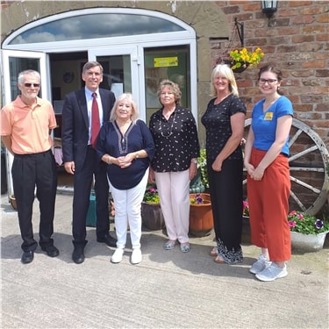 Mr Rutley met some of the cats being cared for by the branch, which is run by volunteers, and found out more about the benefits of microchipping cats.
Cats Protection's Macclesfield Branch is part of a national network of over 250 volunteer-led branches and 36 centres which help around 200,000 cats every year.
David Rutley, Parliamentary Under Secretary of State at the Department for the Environment, Food and Rural Affairs, said: "Today's visit was a great opportunity to find out more about the benefits of cat owners microchipping their pets and particularly how this has helped reunite lost cats with concerned families. This will feed into the call for evidence I plan to issue as soon as possible on making cat microchipping compulsory.
"I was hugely impressed by the work of Cats Protection's Macclesfield branch, which is run by a dedicated group of volunteers who give up their time to help cats in need."
Microchipping is a safe, permanent and cost-effective method of identification which ensures cats can be reunited with their owner should they go missing. It means lost cats are not mistaken as strays and taken in by rehoming charities.
Microchipping also ensures owners can be notified if their cat has been injured or killed in a road accident. Cats Protection encourages local councils to scan any cats they collect that have died in road accidents for a microchip so their owners can be informed.
Cats Protection's Advocacy & Government Relations Officer Madison Rogers said: "Across the country, Cats Protection has thousands of dedicated volunteers who are responsible for helping give cats a second chance in life. It was great to see the Minister responsible for animal welfare taking such a keen interest in their voluntary work by visiting the team at our Macclesfield Branch.
"Cats Protection is calling for the compulsory microchipping of owned cats and this visit gave the Minister the chance to hear on-the-ground experiences of volunteers about why microchipping has such a huge positive impact on feline welfare."
Ends
For a photo or more information, please contact Michaela by emailing michaela@adastramedia.co.uk or phone 07740 305918.