Cats Protection's Mitcham Homing Centre is looking for people who can offer a temporary home to one or more cats whilst they get back on their paws.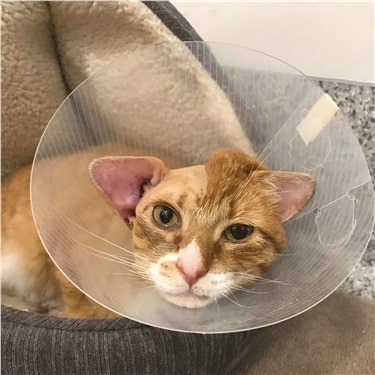 "Cat fosterers play a vital role in our charity by caring for cats in their own home until a new owner can be found," said Emma Goss, Volunteer Team Leader at the centre.
"Offering a temporary home to a cat in need can be an incredibly rewarding experience, and becoming a volunteer for Cats Protection is a great way to meet new friends – both human and feline!"
The charity will provide plenty of assistance and support for all fosterers and all out-of-pocket expenses will be reimbursed. No special equipment is needed but fosterers do need to have a spare room that they can limit the cat to.
One feline who is currently benefitting from being in foster care is Marshall. After having both ear canals removed to prevent benign tumours growing back, Marshall needed time to recover from his ordeal in a home environment.
Emma added: "Marshall's had a long road to recovery but is now ready to find his new home. Due to his surgery, he has been in foster care since the beginning of this year. Being in a home environment has made a huge difference to Marshall's recovery, as he has been able to have some much-needed one-to-one care and attention. We're now desperate to find him a permanent home."
Marshall needs an indoor-only home with owners who will give him the time and affection he needs. Anyone wishing to arrange a time to meet Marshall, should call the Mitcham Homing Centre on 03000 120 285 or email mitcham@cats.org.uk
Anyone who would like to enquire about becoming a Volunteer Cat Fosterer should email Mitcham.VTL@cats.org.uk or call the centre on 03000 120 285.
As well as finding new homes for unwanted and abandoned cats, the charity also offers cat care advice to the public and can help towards the cost of neutering.
A video about fostering for Cats Protection can be found here: www.youtube.com/watch?v=begazFcFurE
~ Ends ~
For media enquiries please contact media.office@cats.org.uk or call 01825 741 911