Four kittens stuck in a six-inch gap between buildings were rescued thanks to a £1.79 child's fishing net and a broom handle.
Quick-thinking volunteers from Cats Protection's Gwent Branch taped the net and broom together, balanced on a step ladder and reached into a tiny gap between a wall and a conservatory.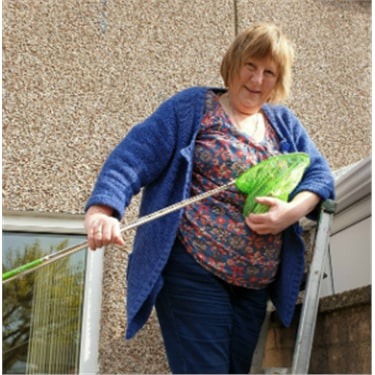 "We decided the only way we could rescue the kittens was to fish them out," said Glynis Davies, co-ordinator of Cats Protection's Gwent Branch.
"They were trapped in a very small space – it was about just six inches wide at one end and 12 inches at the other.
"We were able to reach down and wiggle the nets around, then carefully scoop the kittens back over the wall to safety.
"It was very tricky, but it just shows what you can achieve with teamwork and determination!"
The two ginger and two black-and-white kittens have been named Nemo, Marlin, Dory and Deb after fish characters from the animated film Finding Nemo.
They were rescued on Friday 12 April in Liswerry Drive, Llanyrafon, Cwmbran by Jeff Leek and Glynis Davies with the help of local residents.
It's not known how the three-and-a-half week old kittens came to be trapped, but they will now be hand-reared by Cats Protection volunteers.
Once they are old enough they will be found new homes.
If you would like to support the work of Cats Protection's Gwent Branch, you can donate to its 40th birthday fundraising event - volunteers have pledged to fly down the Zip World Velocity zip wire in Bethesda in May: www.justgiving.com/fundraising/gwentbranchbirthdayfundraiser.
-Ends-
For further information or an interview, please contact Cats Protection's Media Office on 01825 741 911, at media.office@cats.org.uk, or @CPMediaTeam on Twitter.