The Scottish Government Minister responsible for animal welfare has paid a visit to Cats Protection's Glasgow Adoption Centre to see first-hand how the charity helps cats in Scotland.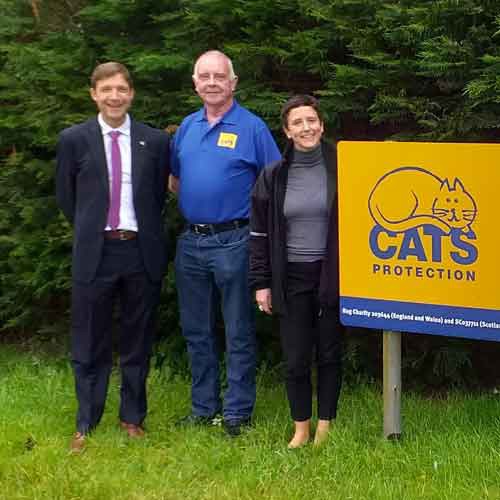 Mairi Gougeon, Minister for Rural Affairs and Natural Environment, met staff and volunteers at the centre, in Auchinloch, on Thursday (12 September).
Cats Protection is the UK's largest cat charity and during 2018, its 40 volunteer-run branches and four centres in Scotland rehomed 4,000 unwanted cats and neutered more than 14,000 cats.
During her visit, the Minister enjoyed a behind-the-scenes tour and met some of the unwanted and abandoned cats currently being cared for at the centre.
Cats Protection's Chief Executive James Yeates said: "It was great to welcome the Minister to the centre and discuss the ways in which the Scottish Government is helping to improve cat welfare in Scotland.
"The Scottish Government has already announced it intends to regulate the breeding of cats, which is a huge step forward in stamping out rogue breeders. This legislation would mean Scotland leads the way in the UK when it comes to ensuring the welfare of breeding cats and their kittens.
"This will also help deter the breeding of extreme breeds with exaggerated traits that can cause pain and suffering to cats. These include the Scottish Fold, a breed prone to cartilage deformity leading to arthritis.

"During the Minister's visit, we also discussed Cats Protection's calls for compulsory microchipping of owned cats in Scotland. This would ensure that cats can be easily identified and reunited with their owner if they become lost or injured. Microchipping is already compulsory for dogs, and the same should apply to cats."
Mairi Gougeon said: "It was a pleasure to visit Cats Protection's Glasgow Adoption Centre and see first-hand the dedication and care that goes into caring for cats in need. The Scottish Government is already working hard to strengthen animal welfare legislation, and we look forward to continuing to work with Cats Protection and other stakeholders to ensure cats receive the protection in law that they deserve."
To find out more about the work of Cats Protection, please visit www.cats.org.uk

Ends
For a photo or more information, please contact Michaela at Adastra Media by emailing michaela@adastramedia.co.uk or phone 07740 305918.